NI sports bodies back Belfast Interface Games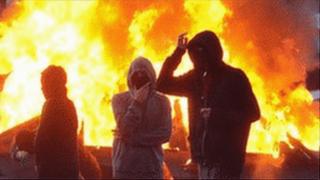 The governing bodies for football, rugby and gaelic are backing a bid to bring together young people from Belfast's sectarian interfaces.
The Belfast Interface Games - cross-community sports camps - will run during the London Olympics.
Organisers hope the events will be repeated in the future, in parallel with the forthcoming World Police and Fire Games and Commonwealth Games.
They want this to be more than a quick diversion during a period of crisis.
Three camps will run next month in the north, west and east of the city, and children aged between nine and 13 will be invited to play "a game of three halves" - a mixture of soccer, rugby and gaelic football.
The camps will culminate in what is being billed as a flagship event on 10 August - two days before the Olympics are due to end.
The initiative is being organised by the Belfast Interface Project which represents 45 community organisations from nationalist and unionist areas and the charity, Peace Players International .
One of the organisers, Paul Brown, said the idea behind the event was to "identify a shared passion and build something around that".
"At the heart of it is breaking down barriers in a fun and safe environment," said Mr Brown, who is a youth worker with Knock Presbyterian Church.
Short Strand community worker Joe O'Donnell said they hoped it was the first of many such events.
"People can get to understand different backgrounds and cultures and relate to each other," he said.