John O'Dowd announces £173m funding for 18 new schools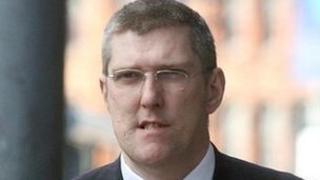 Eighteen schools across Northern Ireland are to get new buildings as part of a £173m spending plan, the education minister has announced.
Most of the schools are primary, with two secondary and three special schools.
John O'Dowd said the largest amounts would go to Castle Tower PS, Ballymena and Foyle College, Londonderry.
The Irish medium secondary Colaiste Feirste in Belfast will also get a new building.
There are no integrated schools on the list - however the minister said that not being included did not mean they would not get new buildings in the future.
It is the first money made available for major projects since August 2010 when capital spending was frozen. Some schools have been waiting years for urgent rebuilding or refurbishment.
Speaking in the assembly, Mr O'Dowd said: "Since taking on the role of minister for education, I have visited schools in each and every sector of education provision.
"The common factor across the estate has been the clear need for considerable investment in infrastructure.
"The need for investment far exceeds the funding available. While I would like to be in a position to fund everything that needs doing now, I must work within the budget available. This means difficult decisions on future investment plans."
The minister said he had decided to move forward immediately with 13 new school builds in the primary and post-primary sectors.
"These schools come from right across the north and were identified as the highest priority projects following a rigorous selection process," he said.
"Furthermore, I am particularly aware of the need to ensure we support the most vulnerable in our education system.
"No-one visiting our special schools could remain unmoved by the needs of the children attending these facilities. I would dearly like to be able to advance every deserving case immediately. However, within the limits of the funding available to me, I am determined that we make progress with a number of cases at this time.
"I am, therefore, today announcing that the process for building three special schools will be advanced. In addition, I can announce that the preferred option for the former Balmoral High School Facility is that St. Gerard's Resource Centre in west Belfast will be the long-term tenant. Furthermore, Arvalee Special School in Omagh will be taken forward as part of the Lisanelly Campus project.
"This will be good news for the pupils and communities directly affected."
Mr O'Dowd also announced funding to progress a number of additional projects through the planning process, so that building can begin more quickly when future funding becomes available.
The minister said that in the autumn, he would will unveil a further list of projects to be taken forward.
Mr O'Dowd also announced the establishment of a new Schools Enhancement Programme. This programme will make available funding of up to £4m for any individual project which is aimed at refurbishing or extending existing schools.
Initially up to £20m will be available for this programme in 2013-14 with the option of increasing this in 2014-15 depending on the number and quality of proposals.
Almost two years ago, the then minister Caitriona Ruane released £23m for 13 schools.
All those projects have now either been built or are nearing completion.