Defence begins case in Michaela McAreavey murder in Mauritius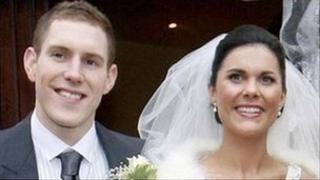 The lawyer for one of the men charged with murdering Michaela McAreavey has formally opened the defence case.
The 27-year-old Tyrone teacher was found dead at the Legends hotel on 10 January 2011. Avinash Treebhoowoon, 31, and Sandip Moneea, 42, deny murder.
A lawyer for Mr Treebhoowoon focused on claims of police brutality, which he said resulted in a forced confession.
This prompted an outburst from her widower, John.
On Monday night a representative for the McAreavey and Harte families said John McAreavey's outburst was uncharacteristic and reflected the pain and pressure the family is experiencing.
In his speech to the jury, the lawyer appealed to the jury to be dispassionate and clinical, saying Mrs McAreavey was a guest in their country and was entitled to truth and justice.
He said John McAreavey had been "evasive" and "defensive" when questioned during cross-examination.
But his main focus was on the allegations of police brutality against his client. He said his client was tortured and deprived of his basic human rights.
At this point, John McAreavey called out "lies" from the public gallery.
On Tuesday, Mr Treebhoowoon is due to take the stand.
The prosecution case has been completed and the defence is expected to begin presenting its case on Monday.