Jury discharged in trial of brothers acccused of murdering uncle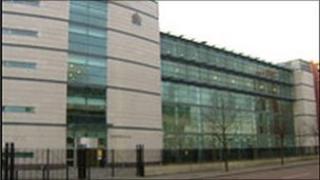 The jury hearing the trial of two brothers accused of murdering their uncle has been discharged.
Trial judge Mr Justice Maguire told the jurors "certain matters arose" which he had ruled upon, the effect of which was that the trial could not continue.
The jury had been hearing the trial of 30-year-old Gerard Gaskin and his brother Daniel Gaskin (22), both from Gortnamona Way in Belfast.
They were accused of murdering their Seamus Holland on 21 November 2010.
Custody
During the two week hearing they had heard how the brothers had admitted attacking their uncle in the kitchen of his Upton Court home in but denied intending to kill him.
Mr Holland (55) was taken to hospital but died later that morning.
Assistant State Pathologist Dr James Lyness said Mr Holland had sustained 85 injuries, or sites of injuries on his body, including fractured ribs, arms, nose and leg, a shattered shoulder blade, as well as a knife wound and a dozen deep puncture type injuries which could have been caused "by a nail".
Mr Justice Maguire remanded the brothers back into custody and listed the case for mention on 29 June with a retrial potentially being heard in the new court term.