'I confessed after I was beaten' accused tells Michaela court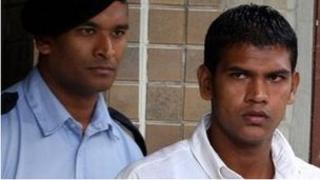 One of two men charged with murdering Michaela McAreavey in Mauritius has broken down in tears while giving evidence in his own defence.
Avinash Treebhoowoon, 31, a former room cleaner at the Legends Hotel, denies murdering the young schoolteacher from Tyrone.
Mrs McAreavey, 27, was found dead at the hotel on 10 January 2011. She had been on her honeymoon.
In court, Mr Treebhoowoon said he only confessed after police beat him.
He was arrested at work the day after the killing.
He described how he was allegedly beaten and threatened by police. He claimed that when he told detectives he was innocent, he was asked to remove his clothes, was held down on a table and was hit on his heels with a wire.
Mr Treebhowoon signed a confession admitting to the killing but he told the court in Mauritius on Tuesday that this was as a result of the alleged police torture.
Earlier on Tuesday, he said he had been elsewhere in the resort when Michaela McAreavey was found dead.
Describing his work schedule for the day she was killed, he described seeing a Do Not Disturb sign on the room door. He said he saw Michaela's husband, John McAreavey, and asked him if it was okay to clean the room.
He said that Mr McAreavey told him to come back in five minutes, but when he returned the Do Not Disturb sign was still there.
He said his co-accused - Sandip Moneea, 42, who also denies the murder - was his supervisor at the hotel.
Mr Moneea had given him permission to clean the room, he said, adding that he finished 10 minutes before the time that the police said the murder took place.
He described seeing the hotel manager running towards the room and he also ran with colleagues.
He said he saw a woman lying on her back on the floor with her husband screaming beside her.
The case continues on Wednesday.