Armagh pub attack victim 'needs facial surgery'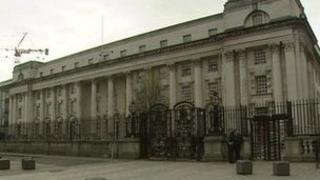 An accountant is to undergo facial reconstruction surgery after suffering serious injuries in a St Patrick's Day pub attack, the High Court has heard.
The 26-year-old victim has already had a metal plate fitted in his skull after the unprovoked assault in Armagh.
His cousin was also assaulted and has been left permanently colour-blind in one eye, prosecutors said.
Details emerged as the man accused of being the attack ringleader was refused bail.
Anthony Damien Gorman, 21, of Callan Street, Armagh, denies two charges of causing grievous bodily harm with intent.
A judge was told the two cousins were set upon three times as trouble flared at McBride's Bar in Armagh on 17 March.
Staff had to intervene and eventually close the premises and ask customers to leave, according to the prosecution.
Although four men were alleged to have been involved in the attack, it was claimed that Mr Gorman was the main offender.
Conor Maguire, prosecuting, said a barman has alleged that Gorman repeatedly punched and kicked one victim about the head and face.
'Unprovoked attack'
This witness claimed to still be shaken up by what he saw.
Neither man knew Mr Gorman, with Mr Maguire adding that police believe it was an unprovoked attack on them during a night out.
The accused was arrested after being stopped at a vehicle checkpoint in Dungannon earlier this month.
Opposing bail, Mr Maguire said police suspect he may quit Northern Ireland for Australia.
It was disclosed that his Facebook page includes a photo of scrap copper piping and the message: "Wee ticket to Oz."
Frances Lynch, defending, rejected suggestions Gorman may flee, telling the court he has discussed working abroad for years but has a girlfriend in Northern Ireland.
The accused had issued police with a prepared statement to say he was aware of an incident in the bar but denied any assault.
Ms Lynch also disputed claims that her client inflicted the injuries, contending that his involvement in the alleged scenario "beggars belief".
Bail was refused due to the perceived risk of interference with the course of justice.
Mr Justice McCloskey stressed that he was not deciding guilt or innocence, but added: "I observe purely in the abstract that this was a thuggish attack involving a sickening and quite frightful degree of violence."