Debt nightmare facing Northern Ireland families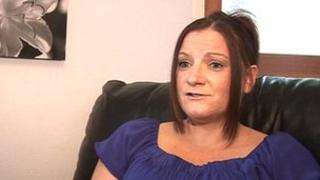 Elaina McLoughlin and her husband Brian had worked since they were 16.
They owned their own home, and had one child with another on the way.
Then, relatively suddenly, they fell into tens of thousands of pounds of debt.
"We weren't silly in the way we spent money," Elaina explained. "It was just circumstances."
In September 2009, just as Elaina was about to go on maternity leave, Brian lost his job.
With his income gone and hers slashed, the bills started to pile up.
"We had to choose whether to pay the mortgage or to eat," Elaina said.
A few months later, their mortgage lender re-possessed their house and the family had to move into Housing Executive accommodation.
Their former home went into an auction - the family claim it was sold for much less than it was worth.
Then, on Christmas Eve 2010, there was another low point.
They received a letter from the bank telling them they owed £75,000 - and according to Elaina, the letter asked if the family would like to pay by credit card, debit card or cheque.
"I can't even tell you how that made me feel," said Elaina. "I've never been as depressed in my life."
Eventually, they contacted the debt counselling charity Christians Against Poverty (CAP).
The organisation got in touch with the family's creditors and managed their debts.
According to the charity, the McLoughlins' experience is far from unusual.
In fact, their statistics suggest that Northern Ireland is the UK region where people find it most difficult to get out of debt.
A survey has shown their average client in Northern Ireland is £15,825 in debt.
But the disposable income of that average client is just £1,927 per year.
The ratio of debt to disposable income is the worst in the UK.
Chris Cupples from CAP Northern Ireland said: "What we're seeing on the ground is that people are struggling, finding it harder to get out of debt than anywhere else in the UK."
There may be several reasons for this - including the crash in property prices and the rising level of housing repossessions.
The charity helped the McLoughlins through a bankruptcy.
Like so many others in this sort of situation, they felt isolated as their debts grew.
Elaina said: "There was help for people who were not married or who had never worked - but no-one there to help us when Brian lost his job and we couldn't pay the mortgage."
But they discovered the despair was not an endless spiral.
Now Brian is back in full-time work, and they feel their lives are picking up.
Elaina has spoken out in the hope that it will encourage people who are desperate to get help.
"There is light at the end of that dark tunnel," she said.
"If it wasn't for CAP, I don't know where we would be."
And she hopes telling her story will help remove some of the stigma around debt.
The McLoughlins' experience shows that it is not just people who are reckless with money who end up owing creditors thousands.
It can happen to just about anyone.
But no matter how deep the debt, there is hope and help.