Sinn Fein to appoint Megan Fearon as Stormont's youngest MLA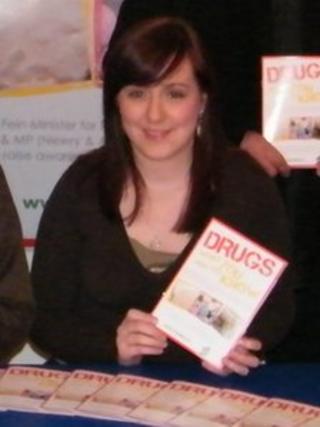 A 20-year-old woman from south Armagh is set to become the youngest member of the Stormont Assembly.
Sinn Fein has selected Megan Fearon to replace Conor Murphy who is stepping down as an MLA after 14 years.
Mr Murphy is among four Sinn Fein MPs who are leaving Stormont due to the party's decision to phase out double jobbing.
Ms Fearon studied politics, philosophy and economics at Queens University and is hoping to graduate this summer.
She has been a Sinn Fein activist for five years and has been involved in youth work with the party in her native south Armagh.
Sinn Fein said she had worked to improve mental health and drug awareness and had also worked on a number of its election campaigns.
'Completely new'
She was selected to replace Mr Murphy as an MLA at a party convention on Monday and the decision is due to be ratified by Sinn Fein's ard comhairle (national executive) in a few days' time.
The South Armagh MP welcomed her co-option as "good news for the people of Newry and Armagh and south Armagh residents in particular".
Mr Murphy added "I am delighted to endorse this bright, energetic and intelligent young woman. Megan will be a welcome asset to the Newry Armagh constituency and I look forward to working closely with her.
"I know that going into the assembly will be something completely new to Megan and, while this would daunt many of Megan's age, I am confident that she will rise admirably to any challenges set."
The outgoing MLA said he was looking forward to concentrate on his role as one of five dedicated Sinn Fein MPs who could "give greater time and attention to building our relationship with the diaspora and with progressive forces in Britain and promoting our uniting Ireland objective".
Mr Murphy is leaving Stormont with Fermanagh South Tyrone MP, Michelle Gildernew, West Tyrone MP, Pat Doherty, and West Belfast MP Paul Maskey.
Sinn Fein's fifth MP, Martin McGuinness, is resigning his Westminister seat to concentrate on his role at Stormont.
Last September, the Committee on Standards in Public Life has called on the government to introduce legislation to ban "double jobbing" by politicians at Stormont.
At the time half of Northern Ireland's 18 MPs still held dual mandates.