Stormont Jubilee party hit by transport chaos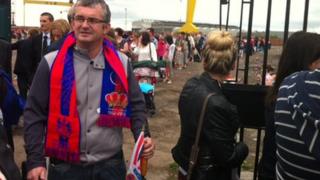 Traffic and transport chaos in east Belfast left thousands struggling to reach the Jubilee event in Stormont.
People parking in the harbour estate were left queuing for hours for park and ride buses.
In the final hour before the gates were due to close at 2.30pm several double deckers picked up the last people queuing.
The NIO said the backlog was cleared and everyone made it to Stormont on time.
The police said the gates would remain open until 3pm.
The last people left Sydenham Road park and ride at around 1.30pm.
It had been a nervous wait, with many worrying they weren't going to make the 2.30pm cut-off point.
Ellen Brown, 86, from Coleraine sat in a wheelchair as she waited for a bus to arrive at Sydenham Road park and ride.
Her son-in -aw Uel Steen said they'd been waiting for at least an hour and a half.
"We've now had to pay to park the car in the Odyssey car park but at least it looks as if we're going to get there in time now".
A total of 22,000 tickets were issued for the party which is due to finish at 6pm.