Belfast floods: Response to ordeal comes under fire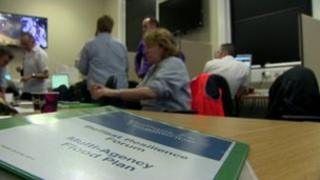 Politicians have criticised the response to Wednesday night's torrential rain that flooded many homes and businesses.
Regional Development Minister Danny Kennedy said the "flood line did not perform as it should have".
The flood incident line is operated by the Department of Finance and Personnel, headed by Sammy Wilson.
Mr Wilson admitted staff had been "overwhelmed".
SDLP MLA Conall McDevitt said parts of south Belfast had been a "scene of devastation".
He said although it was an exceptionally bad night, he criticised both Northern Ireland Water and the Roads Service and said they had been "caught off-guard".
"The response was totally inadequate, the call handling facility collapsed," he said.
Mr Wilson apologised to people who were unable to get through to the flooding helpline on Wednesday evening.
"The speed and the volume of rainfall last night was unprecedented by any account, and with no warning from the Met Office, we did not have the necessary people in place," he said.
"The department tried to rectify this as quickly as possible and arranged for staff to come in to take the calls - unfortunately a significant number of calls were abandoned and this is not an acceptable practice."
He said there needed to be a ministerial discussion about how any response could be co-ordinated.
First Minister Peter Robinson, who was at Belfast City Hall on Wednesday night, was briefed by officials but said Northern Ireland's infrastructure needed to improve.
"This is soul destroying for the people who have been affected," he said.
"This is the kind of weather we can expect year on year and I think we need to have the kind of infrastructure that's going to deal with it.
"That will require very significant funding. It will require the executive to look at its priorities but I think a very strong case can be made."
Sara Venning of Northern Ireland Water has defended its response.
"Across Northern Ireland and across Belfast the NI Water infrastructure was operational," she said.
"So this flooding did not occur because of equipment failure, this flooding occurred because of extremes of weather conditions."
Meanwhile, Belfast City Council is co-ordinating the response to the crisis in the city and is operating a free flooding advice line.
The number is 0800 707 6965 and the council has inspectors on stand-by to respond as soon as possible.
It said that while water levels were currently reduced there were still a number of specific sites around the city that remained affected, particularly in the east of the city and a "high alert" was in place to deal with further downpours as the day progresses.
Dr Anne Wilson, Public Health Consultant for the Public Health Agency, said the main risk in relation to flooding was "caused by hidden dangers under the water such as missing manhole covers or people falling into fast flowing waters".