Fermanagh fracking firm 'not against inquiry'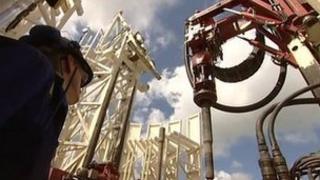 An Australian-based energy firm that hopes to extract shale gas in Fermanagh by early 2014 has said it is not opposed to a public inquiry.
Tamboran representatives appeared before the Stormont enterprise committee.
The company was granted a licence in April 2011 to explore the controversial method of gas extraction known as hydraulic fracturing.
It involves creating tiny explosions to crack shale rocks to release the gas.
Critics have campaigned against the method, also known as fracking, claiming it can pollute water and cause minor earthquakes.
Deputy committee chairman Daithi McKay said the type of fracking the company had proposed was new and spoke of the need for a public inquiry "to give all sides the opportunity to firm up their arguments".
Richard Moorman, chief executive officer of Tamboran, said he was "open to any public discussion" and felt a fully informed debate was important.
"I do respect that there are a lot of people with concerns and also that there are people who just don't want projects like this to go ahead," he said.
"The sooner a discussion like this could go ahead would be of benefit to everyone all round."
Mr Moorman said currently 97% of Northern Ireland's natural gas was imported, and the utilisation of local resources would mean rates would decline to European prices.
He also said the company viewed "Ireland as a potential show home".
"If we were going to take people to see a project in operation in the toughest environment in the world, where there are environmental impact assessments, where the EU's many directives come into play and where it co-exists well and creates opportunities in a community, that's a wonderful opportunity to have," he added.
Committee chairman Alban Maginness said the plans to extract shale gas were a "very contentious issue in Fermanagh" and local people were concerned over the impact on farming communities and rural areas.
"There is considerable convincing to be done," he said.
Despite Tamboran's assurance that they would not be using chemicals in the gas extraction, Green party leader Steven Agnew questioned if they could give a total guarantee that there would be no water contamination.
Mr Moorman said the company could not afford a single failure.
Sinn Fein's Phil Flanagan said he was concerned by the dangerous chemicals already "down there which you could upset".