Glenarm gun attack 'linked to £71,000 debt'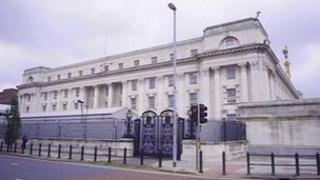 A gun attack on a family's home in Glenarm, County Antrim may be linked to a disputed £71,000 debt, Belfast High Court has been told.
Three shots were fired through the front window of the house at Drumcrow Road on 20 April, while a fourth bullet struck the outside of the property.
A couple in their 60s and their son who lives with them all escaped injury.
Robert John Nelson, from Knowehead Road, Broughshane, Ballymena, is charged with attempted murder.
The 45 year old is also charged with possession of a firearm and ammunition with intent over the attack.
'Shooting rabbits'
The family, who were all in the house at the time of the shooting, were left badly shaken.
Crown counsel Kate McKay told the High Court that the alleged background to the incident involved a debt between the accused and the 60-year-old man whose home was shot at.
The barrister said: "There was a court case taken by the applicant to try to recover £71,000.
"This was withdrawn against the injured party and it is believed this was the motivation behind the attack."
The judge was told Mr Nelson's pick-up truck was allegedly seen outside the victim's home just before the gunman opened fire and shotgun residue was later found both on him and his vehicle.
The accused has two registered guns, a shotgun and a rifle, according to the prosecution.
Mrs McKay said that Mr Nelson claims to have agreed to lend his truck to two men on the night of the shooting, without asking what they wanted it for.
The court also heard that the accused had explained the presence of shotgun residue by saying he had been out shooting rabbits and had not washed his hands.
'Accidental contact'
Although previously granted bail, Mr Nelson had asked the court to grant a variation to his conditions which would allow him to work on his mother's farm in an area close to the scene of the shooting.
His lawyer stressed that the application was not to live in the area, but just to carry out farm labour.
However, the prosecution barrister warned the accused could come into accidental contact with his alleged victims if he was allowed to work nearby.
Having heard the arguments, the judge, Mr Justice Maguire, refused to alter what he described as a carefully put together set of bail conditions.