Tesco Banbridge store legal challenge is dropped by NIIRTA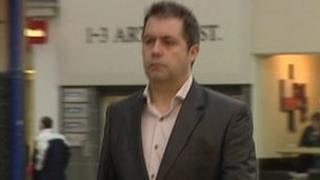 Independent traders have dropped their legal bid to stop Tesco from opening a new store in Banbridge, County Down.
Tesco is planning to open a large supermarket at Bridgewater Retail Park, off the main A1 Belfast to Dublin road.
The Northern Ireland Independent Retail Traders Association (NIIRTA) previously secured a judicial review of Stormont's decision to grant planning permission.
However, NIIRTA said "legal and retail landscapes have changed since the proceedings were initiated last year".
The organisation had objected to the plan for the new superstore on the outskirts of Banbridge, believing that it would take business and customers out of the town centre.
It claimed that it would remove as much as £18m in trade from the town, leading to the closure of many independent shops and the loss of "hundreds" of jobs.
'Move on'
Originally, the supermarket chain had applied build the largest Tesco in Ireland at the Bridgewater Retail Park, which is home to the Outlet shopping centre.
Two of its previous planning applications were rejected but last March, Environment Minister Alex Attwood approved revised plans for a smaller store to be built at the site.
Six months later, NIIRTA was granted permission to challenge his decision in court.
However, the traders' organisation has now confirmed that it is withdrawing its judicial review application.
Its chief executive, Glyn Roberts, said: "NIIRTA is pleased that it is has subjected the minister's decision to the full glare of legal scrutiny and decided to move on.
"Banbridge has one of the best town centres in Northern Ireland and we still have the view that this application will threaten its future viability".
"We realise that our decision will come as a disappointment to the 3,000 local people who opposed this application in a petition and the many local town centre traders", he added.
Mr Roberts explained that NIIRTA was "not in any way anti-Tesco" and said that its sole concern was the planned store's "out of town location".
Benefit
Tesco currently operates an existing supermarket in Banbridge town and NIIRTA have long argued that the company should concentrate on expanding that store, as opposed to opening a new one.
Ulster Unionist MLA and local resident, Jo-Anne Dobson, welcomed NIIRTA's decision to withdraw its legal action, and said the new store would create jobs.
"I am fully aware that a balance has to be struck, but I am of the opinion that if handled properly, a new Tesco store outside Banbridge could actually attract shoppers into the town centre and benefit local retailers.
"Furthermore, building the new store will provide much needed jobs in our local construction industry, and of course once built and opened, the store will provide welcome employment for local people," Ms Dobson added.