Man guilty of sham marriage to be deported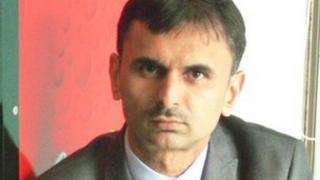 A man who hoped to cheat UK immigration rules by trying to stage a bogus wedding is to be deported after serving time in jail.
Salauddin Daudbhai Bhadki, 38, from Leicester was sentenced to 15 months imprisonment on Friday.
He will now be deported having been on remand since his arrest last year.
Bhadki was arrested by UK Border Agency officers when he attempted to take part in a suspected sham marriage at the register office in Downpatrick in 2011.
He had flown into Belfast on 11 October from the East Midlands and was caught on CCTV buying his wedding suit in a Belfast store shortly before travelling to Downpatrick.
During an interview with officers he denied that the intended marriage was a sham but was unable to answer simple questions about his relationship with the intended bride.
The UK Border Agency will now make arrangements to deport Bhadki following Friday's court hearing at Newtownards Crown Court.
Earl Aiken, from the UK Border Agency, said the case showed that sham marriages would not be tolerated in Northern Ireland.
"This man thought he could abuse the immigration rules and evade justice by taking part in a sham marriage at a location where he was not known," he said.
"As this case shows, Northern Ireland is not a soft touch for this type of crime and we will track down, detain and prosecute those fraudsters who have no right to be in the UK."