Pair in court over £250,000 Belfast drugs find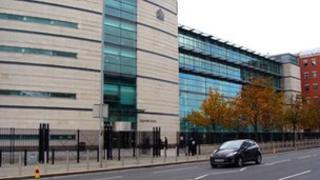 Two men have appeared in a Belfast court charged with having £250,000 of cocaine.
Four kilos of cocaine were found in a blue wheelie bin outside an apartment block, a police officer told the court.
Jamie Alexander Smith, 34, and Ian Edward Smith, 41, whose home addresses have been withheld, spoke only to confirm they understood the charges.
The men, who are not related, are charged with having cocaine and conspiring to supply it on 28 June.
Jamie Smith is also charged with assaulting police, having ecstasy and possessing £5,000 of criminal property.
In the city magistrates court on Saturday, the police officer objected to bail for Ian Smith because of the danger of reoffending.
She agreed the drugs were found in an area to which other residents had access and confirmed no forensic link had been established between Smith and the drugs.
The judge refused bail on the grounds that further offences might be committed.
The men were remanded in custody until 23 July.