Northern Ireland Ulster Bank customers 'at back of queue'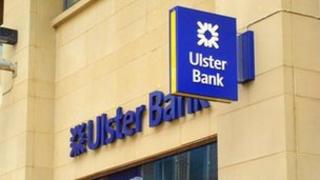 The shadow secretary of state has said he is concerned Northern Ireland Ulster Bank customers have been "put to the back of the queue" by the RBS Group.
It is nearly two weeks since a computer breakdown left thousands of customers unable to access their accounts.
The bank has admitted the backlog of uncompleted transactions would not be fixed by Monday.
Vernon Coaker said RBS had "serious questions" to answer for "the way they have treated customers in NI".
"How can it be that Ulster Bank is so far behind the RBS and Natwest in resolving issues for customers, if they all shared the same system which caused the problem?" he asked.
"Why have people in the rest of the UK have been prioritised at the expense of those in Northern Ireland, who will continue to be without access to their money well in to the week?
"They are justifiably angry and frustrated, and opening up a limited number of branches for a few hours on a Sunday is not an adequate response to their needs."
Mr Coaker said he would be seeking answers from senior management at the RBS Group and the Ulster Bank, as well as raising the matter in the House of Commons.
'Fiasco'
Meanwhile, SDLP MP Margaret Ritchie has called on Chancellor of Exchequer George Osborne to help bring the Ulster Bank crisis to an end.
Ms Ritchie said the government own 82% of Royal Bank of Scotland (RBS) and should step in to end "this fiasco".
Ulster Bank is part of the RBS group.
Mrs Ritchie said: "The chancellor must actively pursue a resolution to the ongoing fiasco where customers of a bank that is 82% owned by the government cannot access their money.
"The chancellor and the Ulster Bank also need to confirm that there have been no security breaches associated with the error and that the bank can monitor suspicious activity on accounts as it would under normal service.
"People are obviously especially vulnerable to fraud when they cannot access their account for an extended period of time."
Ms Ritchie said she had submitted priority parliamentary questions and had written to Mr Osborne to ask him to clarify what compensation consumers would be given, both for bank fines and for third party fines resulting from the bank's error.
"Customers will be familiar with banks' rigid system of fines when they perceive the consumer to be at fault, and there should be no uncertainty in terms of compensation when the bank is at fault," she said.
Ongoing problems
At the weekend, Ulster Bank warned that the problems following the computer breakdown would continue into this week.
Stephen Cruise of Ulster Bank said the weekend work was key in the bank's efforts to catch up on time.
Details are on the Ulster Bank website.
On Friday, Ulster Bank said it had handled 70,000 calls in the past week.
It has updated its website with a series of questions and answers to help customers.
Up to 100,000 customers across Ireland have had difficulty accessing money in their accounts.