Ford targets cut of £7m in civil legal aid bill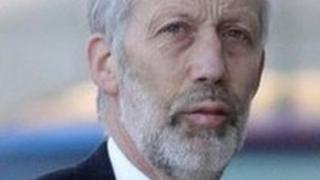 New measures are to be introduced to cut legal aid payments to barristers and solicitors by £7m a year.
The move is part of a wide-ranging programme of reforms announced by justice minister David Ford.
David Ford has already angered the legal profession with new lower fees for criminal legal aid.
It is estimated that those changes will reduce the annual legal aid bill by around £20m.
Highest
The fees paid in Northern Ireland are still amongst the highest in the world, but payments are expected to fall dramatically in the next few years.
Figures for the financial year up to the end of March 2012 are due to be published shortly.
The latest figures available, published in May last year, revealed that 200 barristers and solicitors firms had been paid almost £70m during a 12 month period up to the end of March 2011.
The highest earning barrister during that time was Eilis McDermott, who received almost £900,000.
Three others earned over half a million pounds, and a further 16 were paid upwards of a quarter of a million. In total, the top 20 barristers received more than £8m.
When it comes to solicitors' firms, the top earner was Kevin Winters and company, receiving over £2.5m.
Another seven firms also received more than £1m, a further 29 were paid over £500,000, and 40 others received over £250,000.
Chaos
Those figures won't be repeated in future years as the rates payable have been cut. Many barristers will still earn what most people would regard as huge amounts of money, but substantially less than in recent years.
The move provoked unprecedented industrial action by solicitors here, with claims that David Ford was introducing "yellow pack" justice. The courts were plunged into chaos for a number of weeks as solicitors refused to take cases or appear for clients.
Barristers did not take part in the action, but supported it.
The legal brothers in arms eventually agreed to work for the new fees, while warning that they believe the end result could be a reduction in the quality of legal representation.
Now lawyers and solicitors specialising in civil legal aid work are in David Ford's sights. The biggest area of work is family matters such as divorces and the associated fallout, with disputes over access to children and property, and cases where children are taken into care.
As it did with criminal legal aid, the Department of Justice plans to introduce new, lower fees for civil legal aid work. It also wants to cut the level of representation in some cases, reducing the number of barristers involved.
Mediation
David Ford signalled his intentions in a statement to the Assembly when he announced plans for further reform of the justice system. He insisted that the quality of legal representation will not be damaged.
"I am committed to the principle that people should have help with their legal problems and that will be protected under these reforms," he said.
"What may change is how they receive that help, and how public funding is used to provide it. The quality of help will not diminish but it may be delivered differently in future."
In addition to reduced fees and numbers of barristers involved in cases, those involved in civil actions will be encouraged to resolve their differences through what is called Alternative Dispute Resolution.
The process encourages mediation and agreement instead of sometimes hostile and costly confrontation in the courts.
The planned civil legal aid reforms are part of a wide ranging programme announced today.
Over the life of this Assembly, the minister said he intends to implement almost 40 different projects "to improve access to justice, bring legal aid expenditure within budget and improve accountability within the justice system."