Sir Philip Hampton says Ulster Bank working to clear backlog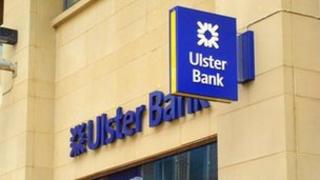 The chairman of Royal Bank of Scotland, the parent company of Ulster Bank has said the problems at the bank are unlikely to be resolved this week.
It is nearly two weeks since a computer breakdown left thousands of customers unable to access their accounts.
Sir Philip Hampton said what had happened was "completely unacceptable" and staff were working "flat-out" to clear the backlog.
He apologised to customers and praised how Ulster Bank staff had responded.
Speaking during a visit to Belfast on Monday, Mr Hampton said the computer failures "should never have happened".
"We've got to make sure we fix it fully and then we've got to make sure these problems don't re-occur," he said.
"Hopefully as we go through next week we will absolutely break the back of this.
"It's true that it has taken us longer to fix this than we thought likely but we are making progress.
Challenging time
"It is slower than we wanted it to be, slower than it should be and we need to address some of the fundamental issues around that."
He said what had happened had been very tough on Ulster Bank staff.
"They weren't the cause of the problem, they're just part of the solution," he said.
"They have just responded magnificently."
Sir Philip said it was too soon to tell what, if any, impact it had had on the business.
"Many of our customers have been very understanding," he said.
"They know the people they're dealing with are working really hard.
"This is a bank that has been around for 176 years. It has been part of what is now the RBS Group for 100 years.
"We are the leading bank in Northern Ireland and we expect to remain so."
The RBS chief said the bank would make sure customers did not lose out financially.
"We will reimburse all of their costs and other expenses, and then we'll have to see what happens to customers in other respects," he said.
Mr Hampton said it was also too early to say whether senior Ulster Bank staff would forgo their bonuses as a result of what had happened.
"Our management team in Ulster Bank are doing a terrific job and have no responsibility whatsoever for the problems that arose," he said.
"The people here, the management team, all of our staff have responded tremendously to the challenge and we'll address the accountability as we complete our full review."
The bank will publish findings when its review is completed.
Finance Minister Sammy Wilson met Sir Philip to discuss the ongoing difficulties. He said the continuing delays were unacceptable.
"I am very aware of the untold concern it is causing to countless customers across Northern Ireland," he said.
Broken promises
"Not only is it denying people quick and easy access to their own cash, but it is placing some people in real hardship and affecting businesses in their day-to-day operations."
Mr Wilson said he had "relayed" to Sir Philip the NI's executive's disappointment that several public assurances on when the problem would be fixed had "come and gone".
"This has been a communications disaster by Ulster Bank leading to the widely held view that Northern Ireland customers have been treated as second class within the RBS Group," he said.
"I impressed upon Ulster Bank the need to get this sorted out as quickly as possible but they are unable to say precisely when it will be resolved."
The finance minister said he appreciated the efforts being made by "frontline" Ulster Bank staff and the pressures they must be under.
"Ulster Bank are of critical importance to the Northern Ireland economy, holding, as they do, such a large share of the local market," he added.
"It is hugely important that, moving forward, this sort of problem doesn't arise again."
Shadow secretary of state Vernon Coaker expressed concern that Northern Ireland Ulster Bank customers had been "put to the back of the queue" by the RBS Group.
Vernon Coaker said RBS had "serious questions" to answer for "the way they have treated customers in NI".
Mr Coaker said he would be seeking answers from senior management at the RBS Group and the Ulster Bank, as well as raising the matter in the House of Commons.
Meanwhile, SDLP MP Margaret Ritchie called on Chancellor of Exchequer George Osborne to help bring the Ulster Bank crisis to an end.
Ms Ritchie said the government own 82% of Royal Bank of Scotland (RBS) and should step in to end "this fiasco".
Customers can keep up to date on the Ulster Bank website.
It has updated its website with a series of questions and answers to help customers.
Up to 100,000 customers across Ireland have had difficulty accessing money in their accounts.