Orange Order leader to address Irish Senate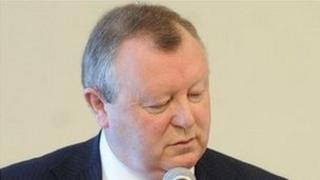 One of the Orange Order's most senior members is to make an unprecedented address before members of the Irish senate in Dublin on Tuesday.
Drew Nelson, grand secretary of the Grand Lodge of Ireland, will be accompanied to Leinster House by leading members of the order.
Senate chairman Paddy Burke said the visit would build understanding about the order.
Afterwards, the delegation will meet with Taoiseach (PM) Enda Kenny.
The group will include Grand Master Edward Stevenson, Deputy Grand Master Rev Alastair Smyth and the grand masters of the four border counties, Donegal, Cavan, Leitrim and Monaghan.
Members of Seanad Éireann (the Irish Senate) unanimously agreed last week to a recommendation by its Committee on Procedure and Privileges to Mr Nelson's address.
Senator Burke said he was looking forward to welcoming Drew Nelson to Leinster House.
'Sustained peace'
"This historic visit and address by the Secretary of the Grand Orange Order is most welcome at this time," he said.
"I strongly believe that it is another step on the path to sustained peace and reconciliation on our island.
"It also presents an opportunity for our people to learn and build understanding about the Orange Order.
In a reference last week to Tuesday's meeting, Deputy First Minister Martin McGuinness said everything that political leaders do "must at all times, be about underpinning the peace process".
"That includes our approach to the summer months and the marching season.
Mr McGuinness was addressing Sinn Fein party members at Westminster following his unprecedented meeting with the Queen when they shook hands.
"And even at this stage I would encourage the loyal orders to bear this in mind when they file for parades through areas they know they are not welcome," he said.
"I welcome the upcoming visit of the Orange Order to the Oireacthas but they need to end their position of refusing dialogue with Sinn Féin or nationalist residents.
"I would ask them to look at the events of the past week and seriously debate how they are going to step forward and make their contribution to a lasting peace in the coming weeks."