Marion Millican murder jury hears final arguments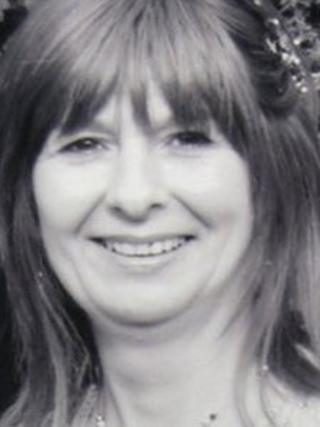 The jury in the trial of a 49-year-old Co Antrim man who claims he accidentally shot his former lover while intending to kill himself have heard final submissions in the case.
Fred McClenaghan, from Broad Street, Magherafelt, denies murdering the mother of four on 11 March 11 last year.
Prosecution lawyer Neil Connor began and ended his submissions by attacking the suggestion that the death of Mrs Millican was the result of an accident.
McClenaghan had, said Mr Connor, in the months before the shooting, repeatedly told counsellors of his wish and dreams of wanting to kill his ex-girlfriend and himself, and that if he could not have her, then nobody would..."and that's what he did members of the jury, he made sure of that".
'Content'
However, the lawyer also said that despite his protestations of wanting to kill himself and while Mrs Millican now lay dead, McClenaghan was still very much alive.
He added that according to a top psychiatrist "he is now 'content' and only gets tense from time to time and is no longer depressed", despite the fact he had killed someone he claimed to have loved.
Mr Connor said the medical and forensic evidence showed that the shooting was no accident, the defence had only provided some "self-serving second-hand accounts... but not one shred of direct evidence" to undermine or contradict the prosecution case.
He added that such was the nature of the case, that it "cries out for an answer" and that it was difficult to conceive of a case "where the demand for answers and explanation is more".
There was nothing, claimed Mr Connor, stopping McClenaghan from getting into the witness box and telling the court what happened that fateful day, save he had no answer to give to the prosecution case.
"The cries for an explanation are deafening," Mr Connor, told the jury," and yet you have heard none".
Diminished
The lawyer also dismissed defence arguments that McClenaghan was suffering from diminished responsibility at the time of the shooting and therefore was not responsible for his actions.
Mr Connor said McClenaghan was not mentally ill, but was motivated by anger and jealousy and feelings of resentment and rejection and that he knew what he was doing and therefore must bear "full responsibility for what he did".
Defence QC John McCrudden began his submissions by likening McClenaghan's shooting of Mrs Millican to the book and film The Perfect Storm where a number of seemingly unrelated events and elements had come together to result in a terrible tragedy.
In McClenaghan's case, it was the culmination of a number of factors, beginning with sexual abuse as a youngster, heart problems in later life, and his inability to cope with emotional stresses, in particular the break-up of his relationship with Mrs Millican.
However, Mr McCrudden told the jury before even considering McClenaghan's mental state at the time, they had to consider the evidence, and reminded them McClenaghan was an innocent man, and that it was not for him to disprove the prosecution case.
"In this case a young woman has died and died tragically and in terrible circumstances," said Mr McCrudden, but he added it was also a case, "shot through with emotion and shot through with tragedy" but also "... a case shot through with reasonable doubt".
Mr McCrudden went on to dismiss the forensic evidence as "a train wreck" in which not only had internationally recognised agreed protocols been abandoned, but also national standards as to the testing of the shotgun with no data or notes being recorded.
'Reasonable doubt'
The lawyer further claimed that prosecution forensic experts had "driven a coach and four" through their own national standards leaving "the terrible spectre, the real possibility, that this gun did go off during a struggle" between McClenaghan and Mrs Millican as he had claimed.
Mr McCrudden said this gave rise to "a reasonable doubt, which we say can never be erased from this case".
The lawyer claimed that the jury were also dealing with a case in which there were "two hair-triggers, the one on this very dodgy shotgun and McClenaghan".
It was agreed, said Mr McCrudden, and there was no question that McClenaghan was a seriously mentally ill man, and in the circumstances he was The Perfect Storm and all hell was set to be let loose in that launderette in Portstewart".
However, Mr McCrudden concluded by telling the jury would not have to consider that aspect of the case as the prosecution had "fallen at the first hurdle, they don't even come near erasing the reasonable doubt in this case".