Housing Executive failing tenants - Nelson McCausland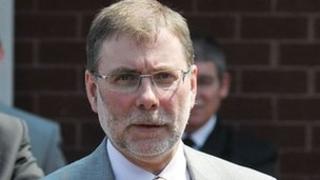 The Housing Executive is failing its tenants and taxpayers, Social Development Minister Nelson McCausland has told the assembly.
Mr McCausland is to introduce special measures, but warned more radical change could be on the way.
It follows an independent report on multi-million pound maintenance contracts.
The minister said executive tenants were "not getting the services expected or being paid for by the taxpayer".
Citing one example, Mr McCausland said contractors claimed for more doors than existed in a house.
New accountability measures will see the executive more closely watched by the Department for Social Development, including fortnightly reports on areas of concern and increased meetings.
"I believe that the Northern Ireland Housing Executive as an organisation has failed to date to demonstrate the required response to known shortfalls in contract management," he said.
"This is a challenge to the board and the management team to show the required leadership drive and determination to deal with these issues."
He also said he intended to revisit the future of public housing in the autumn.
"I hope to make a statement when the assembly returns that will set forward my vision for new housing structures in Northern Ireland that will improve delivery and services for tenants and the taxpayer.
"One thing is clear to me it is time for change, urgent change."
'Complete review'
In response, the Housing Executive said it was determined its tenants would get the service they expect.
"We have completely reviewed the provision of maintenance contracts and this will see more effective contract management," it said.
"Crucial to this will be the new internal monitoring processes which we have already put in place.
"While accepting that there have been problems with response maintenance delivery, which we need to continue to work at, we nevertheless, have a record of delivering high levels of public services."
Foyle SDLP assembly member Mark H Durkan said the Housing Executive had "a duty of care to its tenants and must be accountable for its use of public money.
"It is strange, though, that Minister McCausland now appears to be on a crusade against contractors whose failings pale in comparison to those of Red Sky, the termination of whose contract he attempted to derail this time last year."
East Belfast Ulster Unionist MLA Michael Copeland said Mr McCausland "must act quickly and responsibly" over the issue.
"It is not enough to blame those who merely implement policies that are created and directed from elsewhere," he said.
Resignation
On Monday, it emerged the chairman of the Housing Executive had resigned.
In an email to its 3,000 staff, Brian Rowntree wrote of "personal stress" and "a challenging relationship" with the Department for Social Development.
Mr McCausland commissioned an audit into Housing Executive maintenance contracts after its contract with the Red Sky company was terminated in 2011.
This followed claims of substandard work and financial irregularities.
The minister said the audit revealed the issues that arose with Red Sky were "present with a number of contractors".