David Gavaghan appointed new Titanic Quarter chief executive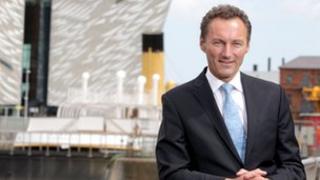 David Gavaghan has been appointed as the new chief executive of Titanic Quarter Limited following Mike Smith's retirement.
The father-of-seven has a background in property and infrastructure investment.
Titanic Quarter is situated on 185 acres of former shipbuilding land and is one of Europe's largest waterfront redevelopments.
The mixed-use scheme is home to the new Titanic Belfast visitor attraction which has welcomed over 200,000 visitors since opening in March this year.
Other major developments on the site include Titanic Studios, one of Europe's largest film studios, an emerging financial services centre and other commercial, education and residential and leisure facilities.
Around 4,000 people already work and live in Titanic Quarter which is home to some 100 indigenous and overseas firms.
Mr Gavaghan said he was "very excited" to join the Titanic Quarter team.
"I am looking forward to working closely with our stakeholders to continue the remarkable transformation taking place on site," he said.
"The challenge is to maintain that momentum and play an important part in creating a city increasingly recognised for its enterprise and vitality.
Plans
"Before 2020, our aim is to attract at least twice the number of people currently living and working in Titanic Quarter today - achieving critical mass and a vibrant atmosphere of opportunity for all who live, work, study or come to be entertained."
Pat Doherty, Chairman of Titanic Quarter Limited, said: "Over the next few years the aim is to continue to create a thriving space which will be at the heart of Belfast's ambitions to recast its international reputation.
"David's wealth of relevant experience will help drive the next phase of Titanic Quarter's development."
Prior to joining Titanic Quarter Limited, David spent the last two years with London-based Quintain Estates & Development plc.
He was previously chief executive of Northern Ireland's Strategic Investment Board (2004- 2010) with responsibility for helping develop new infrastructure for the region.
His other positions have included director at Hambros Bank, specialising in property and tax-based finance, and head of the Department of Trade & Industry's Industrial Development unit, responsible for assessing mobile inward investment across the UK.