£11m hotel complex 'could create 300 jobs in Londonderry'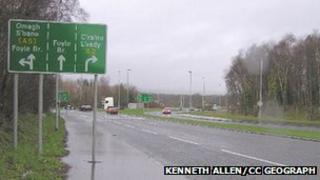 A Londonderry businessman behind a proposed multi-million pound hotel complex in the Waterside has said it could create up to 300 jobs.
The Eglinton-based McGinnis Group wants to build a 100-bed hotel and a food superstore on a site just off the Caw Roundabout, on the edge of the Gransha Hospital estate.
John McGinnis outlined his plans to city councillors on Tuesday.
He said the £11m development could bring badly-needed employment.
"In terms of employment there should be at least 100 jobs during the construction phase," he said.
"When the projects are up and running we'd expect that 200 people are employed within the various buildings."
Mr McGinnis said he was expecting a decision on the application in the short-term.
"There's no reason that work shouldn't start next year," he said.
"We're not new to Derry or investment in the city.
"It's been our life's work and we're proud of Derry and the work we have done here."
SDLP councillor Thomas Conway said Derry City Council's planning committee welcomed the proposal and was "impressed" by the committment to the local economy.
"I see no reason why a decision cannot be reached on this project within the next few months," he said.