Smithwick Tribunal told claims garda colluding with IRA 'manufactured'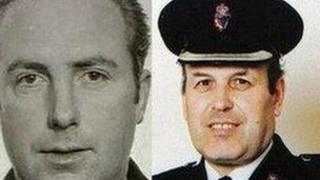 Allegations that a Dundalk police officer was colluding with the IRA were manufactured by the British authorities to divert attention away from their own "dirty tricks", the Smithwick tribunal has heard.
The claim was made by retired detective sergeant Owen Corrigan who was responding to allegations made previously by the former British agent, Kevin Fulton.
Mr Fulton, who is also known as Peter Keeley, infiltrated the IRA in the 1980s.
The tribunal is investigating allegations of garda collusion in the IRA murders of two senior RUC officers in 1989.
RUC Chief Superintendent Harry Breen and RUC Superintendent Robert Buchanan were shot dead in an ambush in March that year as they returned from a meeting in Dundalk garda station.
Mr Fulton gave evidence to the Smithwick tribunal that Mr Corrigan had colluded with the subversive organisation on a number of occasions.
He said that Mr Corrigan had been involved in the two murders, that he had destroyed evidence to assist the IRA and that he had told the IRA that a County Louth farmer, Tom Oliver, was to turn informer, prior to his murder.
Mr Corrigan has denied these claims.
'Very vulnerable'
The former Dundalk detective said he was "at a loss" to understand why Mr Fulton had made those allegations about him, adding that he had never met him.
Mr Corrigan made a number of attacks on the character of Mr Fulton, saying he had been called a "liar" and a "fantasist" by former PSNI chief constable Ronnie Flanagan, that he would "say or do anything" for money and that he had shown a lack of "comradeship and loyalty" towards his so-called best friend, convicted bomb maker Patrick 'Mooch' Blair.
The tribunal heard that two separate independent allegations had been made that Mr Corrigan was assisting the IRA, by smuggler and RUC informer Mr McAnulty and by Mr Fulton.
Mr Corrigan said he could not speak about Mr McAnulty, who was murdered by the IRA in 1989, but that Mr Fulton had made a "full-time occupation of telling lies".