Edwin Poots to highlight McGinley case with attorney general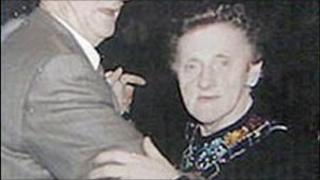 The health minister is to raise the case of a County Tyrone woman, who sustained more than 30 fractures after her death, with Northern Ireland's attorney general.
Maureen McGinley, 78, from Strabane, died in Altnagelvin Hospital in January 2007.
Between her death and examination by the coroner, her body sustained fractures, primarily to her rib cage.
Her family met Health Minister Edwin Poots on Wednesday.
In a statement, the Department of Health said the minister would be "raising the issue of what happened to Mrs McGinley with the attorney general".
Sinn Féin MLAs Michaela Boyle and Sue Ramsey, Chair of the Health Committee, accompanied the family to the meeting.
Ms Boyle said the family had been searching for answers to what happened to their mothers body.
"I welcome the commitment given by the Health Minister, Edwin Poots, to the family to get to the truth," she said.
Ms Ramsey said: "This family have now been campaigning for five years and deserve the truth and it is important that we bring this to an end for the sake of the family," she said.
In 2010, the family said they had been told by a former hospital employee that bodies were being transported on trolleys with boxes on top of them.
Relatives have been campaigning for an independent inquiry into what happened.