Mark Pollock receives honorary doctorate from Queen's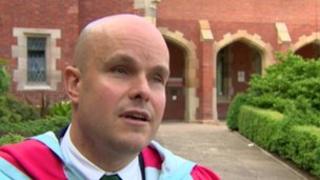 A blind and paralysed adventurer from Holywood, County Down, has received an honorary doctorate from Queen's University in Belfast.
Mark Pollock lost his sight at 22, but went on to win two Commonwealth Games rowing medals, ran marathons in the Gobi Desert, and became the first blind person to trek to the South Pole.
But in July 2010, he was paralysed from the waist down after a fall.
He said it had been a massive surprise to receive the honour from Queen's.
"As it's sunk in, it's a huge privilege. I'm really excited to develop some closer ties with Queen's University," he said.
He was given a huge round of applause from new graduates as he told them: "Sometimes we choose our challenges, and sometimes our challenges choose us. What matters is our response."
Following the accident two years ago, Mr Pollock told the BBC he had nearly died.
He spent 18 months in hospital and was told it was likely he would spend the rest of his life in a wheelchair.
However, he has been having aggressive physical therapy at a centre in California.
He spent most of February in America at Project Walk, describing it as "exciting times".
"I was at a spinal injuries gym. The idea being that if you get out of your wheelchair and crawl and stand and walk, you might have a chance of re-routing your nervous system and recovering in some way," he said.
"While I was out in California this time around I strapped on a set of robotic legs and I was able to stand and walk with crutches.
"No miracles or cures yet, but some experimentation."
He has described the aim of walking again as his "new South Pole".