10 Northern Ireland MLAs had more than £80,000 in expenses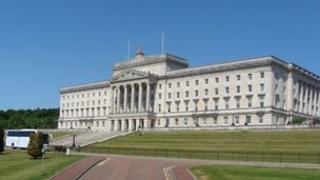 Ten Northern Ireland assembly members submitted expenses of more than £80,000 according to the latest publication of expenses.
The SDLP's Pat Ramsey had the highest total claim among the 108 MLAs, with a bill of £92,718.
This was almost £8,000 more than the DUP's Ian McCrea who occupied the number two position on £85,044.
His party colleague, Lagan Valley MLA Paul Givan, followed with expenses of more than £83,000.
The expenses cover the period from April 2011 until March 2012.
The figures take into account office costs, travel subsistence and other expenses.
Up to £75,857 can be claimed by MLAs during 2011-12 for the running of their offices.
The other assembly members who submitted expenses of more than £80,000 were Dominic Bradley (SDLP), Thomas Buchanan (DUP), Jonathan Craig (DUP), Danny Kinahan (UUP), John McCallister (UUP), Mervyn Storey (DUP) and Jim Wells (DUP).
Forty members had total expenses of more than £70,000 including 21 from the DUP, eight from the UUP, seven from the SDLP, three from Sinn Fein and one from the Alliance Party.