Craigantlet residents object to rural roundabout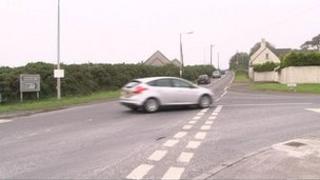 Residents of a rural part of north Down have raised objections to plans for a roundabout on a commuter route between Belfast and Bangor.
The Roads Service wants to tackle rush-hour traffic jams at the junction at Craigantlet, between Whinny Hill and the Ballymiscaw Road.
It says 18,000 motorists use the route every day, and it plans to build two large roundabouts with four lanes of traffic in between.
Stephen Pollock from the Roads Service said it would improve road safety by getting rid of the need for a right turn onto a busy road.
"All the traffic will have to slow down on the approach to the junction, and importantly, it allows traffic to get out of one particular road, whereas at the moment it is queuing at the expense of minor road traffic," he said.
However, local resident Mark Shields said: "Strategy documents and policies say rural areas should be protected, and the Roads Service haven't given enough thought into integrating this scheme into the area."
'Pros and cons'
His mother, Jean, agreed, saying she thought it was "totally unnecessary in a country area".
"Maybe they could try traffic lights for a while to see how it works," she said.
Mr Pollock said this was not appropriate for the junction, as "traffic signals would do little to reduce speed on the approaches, and there's poor visibility because of the hilly terrain".
He said they had carried out an environmental survey and the Planning Service would "have to weigh up the pros and cons".
The aim of the £2m project is to cut journey times by three to five minutes.
Another resident, Dawn Fox, said: "Traffic is only backed up Monday to Friday for an hour and a half in the morning and evening - for three hours a day, this is overkill."
Roads minister Danny Kennedy is to meet politicians about the issue next month.