Teenager jailed over rape of Newtownards pensioner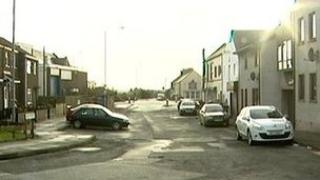 A 17-year-old boy who admitted raping a 76-year-old woman in Newtownards has been sentenced to eight years.
The rapist was 15 when he attacked the pensioner at her Upper Greenwell Street home in March 2011.
His DNA was linked to the rape after police questioned him about minor offences.
The teenager pleaded guilty at an earlier hearing to two rapes and one count of sexual assault. The woman died eight months after the attack.
The victim never returned to live in her home.
The attacker, who cannot be identified because of his age, will have to serve at least four years in prison, after that it will be decided if he should serve the rest of his eight-year sentence.
The attack happened on 13 March 2011 at about around 9:30pm.
The pensioner was putting her dog out the back door at her home when the then 15-year-old rapist came in through the front door of the property.
He confronted the woman in her hallway before grabbing her and taking her to her bedroom where the prolonged attacks took place.
The teenager then escaped through the bedroom window.
The victim was found shaking and naked from the waist down.
One witness who her said the whole attack had "drained the life from her".
Crown barrister Richard Weir said the victim had had a degree of independence, but her dignity had been violently disrupted.
The defendant's defence barrister Terry McDonald said the guilty teenager had problems with drink and drugs and was immature.
Before sentencing, Judge Geoffrey Miller QC read out remarks from the victim's daughter who said all her mother's "spark, determination and character was gone.
"She was distressed and humiliated by her attack until she died.
"He snatched the later years of her life, destroying my mother's whole being and haunted her right until her death."
The judge said it was a shocking case in many ways adding that "the victim's will to live was sapped".
He added the teenager, who had mild learning difficulties was a dangerous offender, posed a serious risk to members of the public and had a high likelihood of re-offending.
PSNI Detective Inspector Geoff Pogue said the investigation into the rape had been "prolonged, protracted and very difficult for the victim, her family and indeed the police officers involved, both in the specialist Rape Crime Unit, and the uniformed officers of Ards police who supported them.
"Rape is one of the most heinous crimes a human being can carry out against another.
"Our officers will continue to do everything in their power to hunt down those responsible, as well as supporting victims and their families."