Grandfather killer Eamonn Coyle sentenced over Omagh assault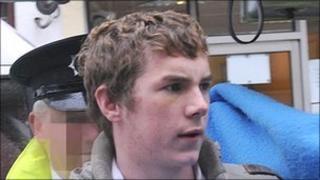 An Omagh teenager who killed his grandfather in 2009, has been convicted of assaulting police officers while out on licence.
Eamonn Coyle was sentenced to 12 months for the manslaughter of Francis O'Neill - later doubled to two years.
Last month he was returned to serve the rest of his sentence after being convicted of assaulting a man outside a pub in Campsie.
This week he was given a three month sentence for assaulting police.
That is to run concurrently to his current custody orders. As a result it will not affect his expected release date.
He was also convicted of disorderly behaviour and resisting police over the incident which happened two days before he took part in the gang attack in Campsie.
The assault on police happened at Drumragh Avenue in the town.
Coyle, formerly of Holmview Terrace, was 16-years-old when he stabbed his grandfather Francis O'Neill in the neck and strangled him for £80 to pay his rent.
Coyle's sentence was doubled to two years detention and two years on licence in December 2010 after the intervention of the Director of Public Prosecutions.