Hain case decision 'entirely mine' says attorney general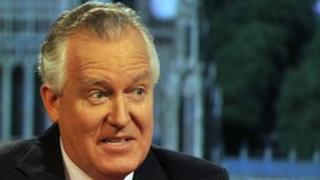 Attorney General, John Larkin, has told MLAs he received a letter from Lord Justice Paul Girvan prior to initiating a case for contempt of court against former Secretary of State, Peter Hain.
The action arose from comments about the judge in Mr Hain's memoirs.
The case was dropped after the Labour MP wrote to the Attorney General in May 2012 to clarify his remarks.
Justice committee chairman Paul Givan asked Mr Larkin if he had any contact with the judiciary before the action.
"It is true that I was written to by Lord Justice Girvan who drew my attention formally to the nature of Mr Hain's remarks," the Attorney General replied.
He said the decision was "entirely mine"
Confidence
"There was no question of him (Lord Justice Girvan) making any strong plea for any particular course of action," Mr Larkin said.
In reply to a question from Paul Givan, the Attorney General indicated that people had nothing to fear when expressing "temperate, well-informed criticism" of the judiciary.
He added that contempt of court was "not about protecting the sensibilities of the individual judge", rather it was about maintaining public confidence in the administration of justice.
The Alliance Party's Stewart Dickson sought assurance that Mr Larkin was not "assisting, or helping, your legal colleagues and friends through some old boys' network".
"Heavens above, no. Certainly not," he replied.
Jim Wells of the DUP wanted to know the total cost of the case, and was told it came to £8,100 plus VAT.
"Some would describe that as yellow-pack justice," Paul Givan commented.
The Attorney General