Developer Paddy McKillen makes a pre-tax loss of £1.9m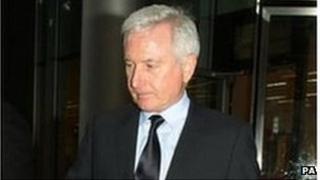 The main Northern Ireland company of Paddy McKillen, the high profile property developer, made a pre-tax loss of £1.9m in 2011.
Mr McKillen co-owns Belfast Office Properties with the County Tyrone developer Padraig Drayne.
The performance was a slight improvement on the £2.2m lost in 2010.
Mr McKillen has been involved in a number of high profile legal cases, including one to retain Claridges hotel.
Belfast Office Properties owns the Ards shopping centre and the Waterfront Plaza office block in Belfast.
It also controls the Forge shopping centre in Glasgow which is probably its most valuable asset.
The firm wrote down the value of its investment property by £8.2m giving a total loss for the year of £10.1m. It now has net assets of just over £17m.
The directors state they expect £221m of loans from Ulster Bank and Bank of Ireland to be renewed "on acceptable terms."