Trio jailed for running brothels in Northern Ireland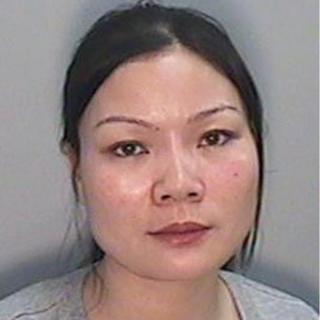 A former prostitute convicted of running brothels in Northern Ireland, along with her husband and an ex-policeman, has been jailed for seven years.
Rong Chen, 35, with an address at Crestwood Avenue, Kidderminster, Worcestershire, was sentenced on Friday.
Her husband, Jason Hinton, must serve 220 hours of community service. Former policeman Simon Dempsey, 42, of Ringbuoy Cove in Cloughey, County Down, was jailed for four and a half months.
Chen is expected to spend three and a half years in prison and the same period on licence.
The trio were brought to court following a six-month police operation into an organised crime gang controlling prostitution in Northern Ireland and trafficking women for exploitation.
They had admitted charges which included controlling prostitution for gain, trafficking women within the UK and handling money linked to the vice ring in 2008 and 2009.
It is believed the operation raked in more than £280,000 over an 18-month period.
Chen, who is originally from China, was at the centre of the activity, running five brothels in Belfast, Newry and Londonderry and duped Chinese women into travelling over to Northern Ireland.
She placed advertisements in English newspapers offering work as nannies and cleaners at £220 a week, but then forced the women to work as prostitutes when they arrived.
Rival brothels
Once they arrived in Northern Ireland, the women were threatened with violence and with their illegal status.
It is believed that Chen earned £280,000 over 18 months from January 2008 to May 2009.
Her husband, Jason Hinton, helped by booking his wife's flights to Northern Ireland and by disrupting rival brothels by establishing their addresses and alerting police, landlords and local residents.
Meanwhile, Dempsey rented properties, delivered food to the brothels, collected money and drove Chen around Northern Ireland.
Chen's husband, an accountant, admitted helping to run the brothels, as did Dempsey.
Dempsey had a peripheral role and was also sentenced to four and a half months on licence.
The operation was shut down when the Newry brothel was robbed by some former customers in 2009.
As the women who had been working there were being brought back to England, staff at the Stena Ferry terminal in Belfast became suspicious and called police.