Donkey drowned in bog in Coalisland, County Tyrone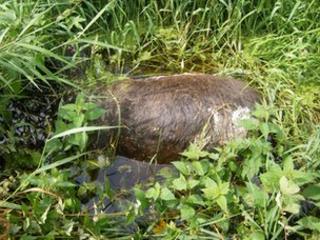 Four abandoned donkeys have been rescued from a bog in which another donkey drowned.
Staff at the Donkey Sanctuary were called in on 5 July by the owner of the land near Coalisland, County Tyrone, on which the animals had been abandoned.
Two mares, along with a stallion and a young foal, were rescued from the bog.
A fifth donkey was found dead and is believed to have drowned after falling into a drainage ditch.
'Harrowing sight'
Allen Andrews, The Donkey Sanctuary's regional welfare officer responsible for Northern Ireland, was first on the scene.
"It was a harrowing sight. Not only had one donkey tragically died in what must have been a terrifying death, but all the surviving donkeys have painfully long hooves and are terribly thin," he said.
"The only food available to the donkeys was the boggy grass which hid the drainage ditches full of water in which their companion had drowned.
"All four surviving donkeys are now safe. They are naturally all traumatised by recent events, and I am sure that it will take some time before they learn to trust again, but they are now guaranteed warmth, shelter, nourishment and a secure future with the charity, and we will do all we can to give them the best chance possible of returning to full health."