How the last words of Titus Oates still inspire his regiment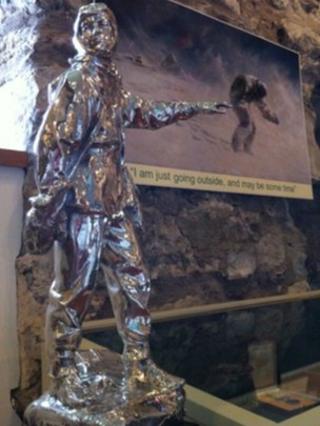 Suffering from frostbite he knew what he had to do if his companions were to have any chance of survival.
His last words, "I am just going outside, I may be some time", are an understatement of courage and bravery and have been immortalised in the history of Polar exploration.
Captain Lawrence 'Titus' Oates served with the 6th Inniskilling Dragoons and his act of self-sacrifice continues to set an example to soldiers in his regiment today.
Members of the Royal Dragoon Guards helped to launch a new exhibition to coincide with the centenary of his death in the museum at the regiment's spiritual home of Enniskillen Castle.
Self sacrifice
They brought with them Oates' Antarctic Medal awarded posthumously, normally kept in a bank vault, but which was loaned to a recent Antarctic expedition who brought it to the place where he died.
Also on display was his regimental tankard inscribed with his name, and a silver statue that serves as a reminder of his bravery.
It normally sits in front of Lieutenant Colonel Jamie Piggott, the Commanding Officer of the Royal Dragoon Guards, on the dining room table in the Officers' Mess, "so that I should never forget that act of sacrifice and important part that he plays in our regimental life" he says.
"Captain Oates set an example of in those days termed gentlemanly behaviour.
"Actually he embodies much more than that, he embodies exactly that which our soldiers continue to do to this day which is to fight for and provide support to their friends and their mates in the most adverse conditions."
He says that while Captain Oates is best known for his supreme act of self-sacrifice in the Antarctic, for the regiment it is his life leading up to that point that's almost as important.
In fact he first came to the attention of the British public during the Boer War as Brigadier (Retired) Johnny Torrens-Spence, the Colonel of the regiment explains.
"He was recommended for a Victoria Cross for a most remarkable action when he was a very young officer.
"He'd only been in the Army a little more than a year when he was ambushed by the Boers and he and a small patrol of men hung on in the face of very superior numbers on the veldt in South Africa.
"He was repeatedly invited to surrender which I think by the rules of war he probably should have but he repeatedly responded that, 'I'm not here to surrender. I'm here to fight' ".
"Right at the end of the day when the Boers withdrew he was very seriously wounded in the leg, his thigh bone was shattered by a Boer bullet, and I do think to some extent it was that war wound that probably led 12 years later to his demise because it was his legs which really gave out on the walk back from the Pole."
Fateful decision
The exhibition in the Iniskillings Museum charts his life and military career, as well as the Antarctic expedition.
A signed menu records the Christmas dinner at Cape Evans on Midwinters Day in 1911 .
The starter was Consommé of Seal, followed by Roast Beef and Yorkshire Pudding, Caviar Antarctic, drinks of wine, champagne and liqueur, with cigars and Buzzards Cake to finish.
But for those who trekked to the South Pole, only to discover that the Norwegian Amundsen had beaten them there, the conditions were miserable, says Brigadier Torrens-Spence.
"On the last day, which I suppose was the the 16th of March 1912, he went to sleep, Scott writes, he went to sleep hoping not to wake because he was suffering severely from frostbite.
"But unfortunately he did wake and then I suppose he grappled with his own conscience and he made the fateful decision and he said to his companions 'I am just going outside I may be some time' and Scott writes that we knew very well that he was walking to his death but it was the act of a brave gentleman.
"He was a product of his time, he was a Victorian gentleman and he lived and I may say he died by the values of a Victorian gentleman where courage fortitude resilience in the face of pain and adversity were what were expected of him and that's how he thought he ought to behave.
"Some of these are attitudes which are not so prevalent, I suspect, in modern day life but for soldiers they matter, they still matter, and frankly many of those same characteristics we look to our soldiers and officers today to emulate those."
The Royal Dragoon Guards remember Oates each year on his birthday, St Patrick's Day, which was also the day he died at the age of 32.
It is the only regimental day in the British Army to commemorate an individual rather than a battle honour.
As the Royal Dragoon Guards prepare to embark on operations in Afghanistan, Brigadier Torrens-Spence says the spirit and example set a century ago by Captain Oates is still alive today.