Parades Commission head appeals for calm over Orange Order Twelfth marches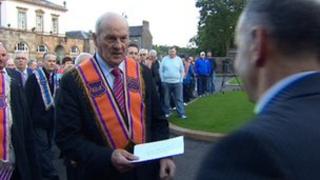 The chairman of Northern Ireland's Parades Commission has appealed for calm ahead of the Protestant Orange Order's annual Twelfth of July marches.
Peter Osborne said the atmosphere around parades had improved and a peaceful summer would aid progress.
However, DUP leader Peter Robinson has dubbed as "bizarre" the commission's restrictions on parades in Ardoyne and the County Antrim village of Crumlin.
Protests have been held over the rulings.
In Crumlin, while about 5,000 Orangemen will be allowed to march through the mainly nationalist village on their way to their demonstration, only members of the Glenavy district lodge of about 500 people will be permitted to walk on the return journey.
Speaking on BBC NI's Good Morning Ulster on Tuesday, Dr David Hume, a senior Orangeman, said the Protestant community felt under pressure.
"We need a little respect, tolerance and understanding. The nationalist community has to convince us that there is a place for our culture," he said.
Referring to the commission's ruling on the Crumlin parade, Sinn Fein's Mitchel McLaughlin said: "It is 14 years of missed opportunity to engage on a neighbour-to-neighbour basis, the Orange Order have to take responsibility for that."
He added: "Dialogue is the way in which we can learn to understand each other's culture and have mutual respect."
On Monday, about 200 Orangemen protested against the Crumlin ruling.
They gathered outside Hillsborough Castle and handed a letter of protest to a representative of Northern Ireland Secretary Owen Paterson.
Tommy Ross, who is district secretary of Glenavy Lodge, said: "There haven't been any problems in Crumlin, there weren't any problems 14 years ago, but there has become a majority of nationalists in the village.
"I think if the nationalist residents who are complaining about this would just step back, they would improve relations.
"The Orange Institution is a lawful institution, it has never broken the law, and we will get our way around this."
'Challenging'
In a statement, the Crumlin Residents Association criticised the Orange Order for refusing to engage with residents.
"By ruling that the entire march can go ahead in the morning and that the Glenavy district can return through Crumlin, the Parades Commission have ignored our efforts and concerns," it said.
The chairman of the commission has said the number of sensitive parades was decreasing.
"However, where people and organisations have been unable to reach local agreement over parades, the commission has reluctantly fulfilled its legal obligation to take a decision, balancing rights and promoting sensible ways forward," said Mr Osborne.
"All leaders - political, community, parading and clergy - who want to assist with future efforts to seek resolution to these most challenging of issues should be mindful of their responsibilities and the influence for good they can have within their local community to ensure a peaceful day."
About 100 loyalists protested on Monday in north Belfast against the commission's determination on its march through Ardoyne.
For years, rioting has broken out after the parade. This year it will finish several hours earlier than in the past and be clear of an interface at Ardoyne shop fronts by 16:00 BST.
The Orange Order said this would not give them enough time to take part in festivities in the south of the city.
The Protestant organisation holds its main Belfast demonstration, which commemorates King William III's 1690 Battle of the Boyne victory over Catholic King James II, at Barnett's Demesne, five miles away from Ardoyne.
In previous years, the parade has passed through the area on its return from the field at about 19:00 BST.