Newcastle and Mournes area traders want tourism promotion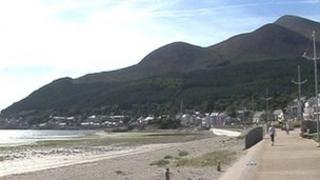 Traders in Newcastle have criticised the Northern Ireland Tourist Board for what they say is a lack of promotion of the Mournes as a holiday destination.
They say the focus for the 'Our Time Our Place' campaign has been placed on the north Antrim coast and the Titanic quarter in Belfast.
Newcastle cafe owner Michael Nugent said more needs to be done to boost tourism in the south Down area.
He said the Mournes was a "real gem" on our doorstep.
"Northern Ireland has benefited from a lot of publicity in 2012, however it all seems to be focused up in the north coast.
"I do appreciate the golf was on in Portrush and the Titanic Centre and the Giant's Causeway visitor centre, but we've got an absolute gem on our doorstep here in the mountains of Mourne."
The Irish Open was staged at Royal Portrush on the north Antrim coastat the end of June, while the Giant's Causeway centre opened at the start of July.
The Titanic Belfast visitors centre opened at the end of March.
Aine Kearney from the Northern Ireland Tourist Board said they had heavily promoted Newcastle and the Mournes area with £3m invested in the last year and a half.
"I do feel disappointed because we have invested heavily both in Newcastle and the surrounding area," she said.
"It features extensively within our campaigns and is profiled quite heavily across all our media platforms."
She said that the board's eight tier one events in 2012 - none of which were in County Down - had been chosen as a result of "a lot of new products coming on board".