Ardoyne Twelfth Orange parade ruling to be challenged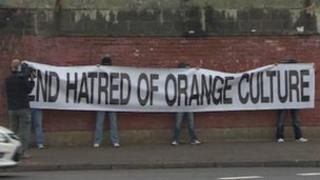 A loyalist parades group is to mount a legal challenge against a decision by the Parades Commission about the contentious Twelfth of July march in north Belfast.
The Orange Order has described as "foolish" a ruling that the parade must clear the Ardoyne shops by 16:00 BST.
The North and West Belfast Parades Forum said it would mount a legal bid to have the ruling overturned.
It says the deadline is impossible to meet.
For years, rioting has broken out after the parade.
Loyalists gathered in north Belfast on Tuesday for a second night to protest against the commission's decision.
The Protestant organisation holds its main Belfast demonstration, which commemorates King William III's 1690 Battle of the Boyne victory over Catholic King James II, at Barnett's Demesne, five miles away from Ardoyne.
In previous years, the parade has passed through the area on its return from the field at about 19:00 BST, and the Orange Order says the earlier deadline would curtail their festivities.
DUP North Belfast assembly member Nelson McCausland said the Parades Commission's determination was "simply incomprehensible and nonsensical".
"It's physically impossible to walk to the field on the outward parade and then make the homeward parade and be there by four o'clock," he said.
"The demonstration isn't even starting to leave the field until after four o'clock so it's utterly impossible to implement this."
'Impossible task'
North and West Belfast Parades Forum spokesman Winston Irvine said: "The forum is working with others to put together an application before the courts to have a judicial review heard on this outrageous decision.
"We're in the process of hearing the outcome of that and we will continue to vigorously challenge this in whatever way we see fit to do so.
'"I think they've set the Orange Order an impossible task and you can't ask people to the impossible.
"They've (the Parades Commission) set the bar so high here and they are trying to set the Orange (Order) up for failure."
Loyalists have also been angered by a decision to grant permission to a republican group - the Greater Ardoyne Residents Collective (GARC) - to stage a parade shortly after the Orange Lodges are due to pass.
Sinn Fein's Gerry Kelly also criticised the group's decision to hold a parade.
"My worry here is that the long-suffering nationalist residents of the area are faced with a bigger problem than last year, and it's the Parades Commission that has entirely set that up," said the North Belfast assembly member.
"I think GARC are wrong in asking for a parade on the Twelfth which just increases the number of parades on this road."