Dervock celebrates Olympic hero Kennedy Kane McArthur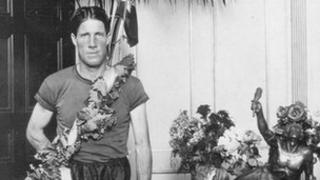 A County Antrim town has been celebrating the achievement of an athlete in the Olympics 100 years ago.
Kennedy Kane McArthur was born in Dervock in 1881.
At the age of 20 he migrated to South Africa and joined the Johannesburg police.
Eleven years later he would represent the country in the Stockholm Olympics and take home a gold medal.
He won it for completing the marathon in 2 hours, 36 minutes and 54.8 seconds.
After the competition he didn't travel directly back to his adopted country, rather he brought his medal back to the place where he had grown up.
The athlete was greeted at Ballymoney station by a brass band and a guard of honour provided by the Boys Brigade.
He then boarded a carriage which was pulled through the streets by local men.
The manager of the Ballymoney Museum, Keith Beattie, said people in Dervock and Ballymoney still regarded McArthur as one of their own.
"When he won the gold medal he became globally famous and so when he arrived back in Ballymoney and back in Dervock, everyone wanted to give him the welcome he deserved," Mr Beattie said.
Mr Beattie has been instrumental in bringing various Kennedy Kane McArthur artefacts back from South Africa for a temporary exhibition in Ballymoney.
He is also one of the organisers of a parade through the town which re-enacted McArthur's homecoming.
"This re-enactment is a way that we can just remind people how important this man was," he said.
The parade followed the journey taken by McArthur from the train station to the town hall.
'Treated like royalty'
Just as in 1912 there were cheers from those who had come to watch the procession. Standing in for McArthur in the carriage was local actor Patrick Buchanan.
"It was a very, very big occasion. He was treated like royalty in a way," he said.
Mr Buchanan also plays McArthur in a play about the athlete which opens on Friday night in Ballymoney town hall.
The actress playing McArthur's wife also took part in the parade, but she hasn't had to learn the South African accent.
Liza Ackerman has lived in Coleraine for 10 years but she was brought up in the exact place where McArthur lived until his death in 1960.
"I grew up with the name Kennedy Kane McArthur in my home town of Potchefstroom, running in an athletics stadium that bore his name," she said.
"He was like our Joey Dunlop I think and we just claimed he was our own, we thought he was South African. It was only when I moved here a few years later that I realised he actually belonged to Dervock."
When the procession led by the Ballyduff Silver Band arrived at the town hall, McArthur was greeted by the mayor.
The Ballymoney Borough is not alone in celebrating this sporting hero. McArthur's achievement will also be remembered in Stockholm and South Africa this year.
Marathon Mac may have been forgotten about for decades, but 100 years after he ran the race of his life, the boy from Dervock is once again making headlines.