Orange Order bus a token group of marchers to Ardoyne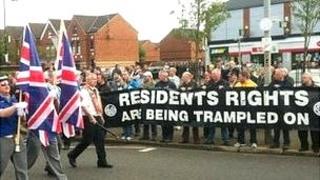 Members of three Orange lodges are being ferried across Belfast by bus to meet a 16:00BST deadline for passing the flashpoint Catholic area of Ardoyne.
Orangemen say it's a peaceful solution to allow them to complete their return parade from the main celebrations to their Orange halls in north Belfast.
Precise details have not yet been announced but the BBC understands the solution involves the use of at least one bus.
A group have left the main celebration and have arrived at Woodvale Road.
They will then walk on foot past the Ardoyne area. They hope to do so before the 16:00BST Parades Commission deadline.
In a statement the County Grand Lodge of Belfast said it wouldn't fall into what it called the Commission's 'trap'.
The order added that when they receive word that the token group have completed their journey home, only then would the rest of the Belfast lodges return to their Orange halls.
The Greater Ardoyne Residents' Collective, which is due to hold a protest parade shortly after the Orange lodges pass, has appealed for anyone intent on causing trouble to stay away from the area.
Lodges and bands passed Ardoyne earlier on Thursday on their way to the field where Orangemen gather before returning to their own areas later.
Members usually walk back across the city to their Orange halls.
Protest banners
Meanwhile, the Orange Order and residents of Crumlin have come to an arrangement that is hoped will allow a parade in the mainly nationalist village to pass off peacefully.
There had been concerns about the march after restrictions were imposed by the Parades Commission.
The accommodation worked out in talks between the Orange Order and residents on Wednesday night seems to focus on flags and bunting.
Several Irish tricolours along Main Street were taken down last night and replaced with protest banners, one of which reads "Orange Order silence damages community relations".
Parade organisers erected bunting in the same street on Thursday morning. It's expected to be removed by the end of the day.
Police and the fire service have reported a relatively quiet 11th night as bonfires were lit across Northern Ireland in a traditional start to the 12 July celebrations.
"Despite some localised pockets of disorder this was the quietest 11th night in policing terms that we have seen for a number of years," said PSNI ACC Will Kerr.
The Twelfth of July is the busiest day of the marching season in Northern Ireland with thousands of Orangemen and women, accompanied by marching bands, taking part in hundreds of parades.
The Orange Order holds its main Belfast event, which commemorates King William III 's 1690 Battle of the Boyne victory over Catholic King James II, at Barnetts Demesne, five miles away from Ardoyne.