Almost 1,000 NI soldiers will work at Olympic games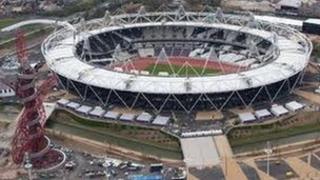 Almost 1,000 full and part-time soldiers based in Northern Ireland will work at the Olympic games in London.
They will be made up of regular troops and members of the Territorial Army.
Home Secretary Theresa May confirmed in the House of Commons on Thursday that an extra 3,500 soldiers would be needed in addition to the 13,500 already deployed after security firm G4S said it could not fulfil its requirement.
The soldiers will undertake a wide range of tasks.
The Ministry of Defence said exact numbers are still being finalised, but a spokesman said almost 1,000 men and women will be working on Olympic security.
The full-time soldiers, who will work at the Olympics, come from Two Rifles, who are based at Ballykinler in County Down and the Mercian Regiment, who are based at Palace Barracks in Holywood, County Down.
The TA soldiers involved come from the Two Royal Irish, the 152nd Transport Regiment of the Royal Logistics Corp and the 204 Field Hospital.
The MOD said the overwhelming majority of these troops were already allocated to Olympics duty before this week's announcement.
Veterans
But they did say that a small number of extra soldiers from Northern Ireland are included in the 3,500 confirmed by Ms May, but they could not give me an exact figure.
It is unclear what the soldiers will be doing but many of them veterans of campaigns in Iraq and Afghanistan so there is some suggestion they will be used for tasks as basic as searching bags on the way into the Olympic Park.
The MOD has confirmed they will be used for vehicle and pedestrian screening, but they will also be used on security patrols, in defensive positions against potential terrorist attacks, as emergency cover - wherever they are needed.
As we have seen over many years when the army have been used for crowd control, as a fire service, to combat flooding, they are very flexible and can turn their hand to most things.
The TA's 204 Field hospital will provide medical support.
The MOD said army personnel were not being redeployed from Afghanistan to fulfil Olympics tasks.
Some of those personnel being deployed in support of the Olympics returned from Afghanistan in April.
With hundreds of thousands of people attending events across dozens of venues every day they are likely to be kept busy.