Michaela crime scene photos: locals 'appalled'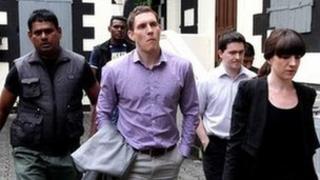 A County Tyrone councillor has said locals are 'absolutely appalled' at the publication of pictures of the hotel room where Michaela McAreavey was killed, including images of her body.
SDLP councillor, Anthony McGonnell said "the hearts of the community" are with her family.
The 27-year-old teacher from Ballygawley was killed on her honeymoon in Mauritius in January 2011.
The photos were printed in a Mauritian newspaper on Sunday.
The trial of two men accused of Mrs McAreavey's murder ended last week with their acquittal.
It was initially expected to last two weeks but turned into one of the longest trials in Mauritian legal history, lasting more than seven weeks.
Councillor McGonnell said there was shock in the community that the family have suffered further heartache with the publication of the crime scene photos.
"When you contrast the quiet dignity of John McAreavey and his family to the crass scenes of exaltation shown following the acquittal of the two men accused of her murder and now the publishing of these pictures in a local newspaper, it beggars belief.
"What the family have gone through in the past 18 months is absolutely horrendous".
The director of Public Prosecution in Mauritius Satyajit Boolell has told the BBC there is to be an "independent fact finding commission" into the murder case.
Mr McGonnell said that people in Mrs McAreavey's home town have little confidence that the Mauritian authorities will bring her killers to justice.
On Monday, the Irish Government is to make a formal complaint to Mauritius over the publication of the photographs.
The Tánaiste and Minister for Foreign Affairs Eamon Gilmore is to discuss the matter with Ireland's ambassador to Mauritius.
The Mauritian Sunday Times, in which the pictures were published, has no connection to any British or Irish publications.