Ulster Bank says normal service restored for most customers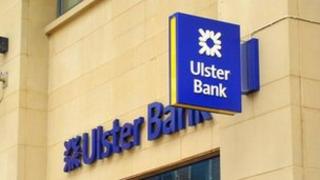 Ulster Bank has said normal service has been restored to the majority of its customers.
A serious computer failure almost a month ago at the bank's parent company RBS, caused chaos to many people's accounts.
The bank said all its systems are "running as normal".
A small percentage of outstanding transactions will be processed over the next few days.
"There is no doubt that there will be reconciliations to some customer accounts that also need to take place over the coming days and weeks," a statement said.
"However, for the majority of customers it is now business as usual."
The bank's chief executive Jim Brown said about "2% of transactions were outstanding".
He said no customers would be "out of pocket" because of this.
"In terms of fees and charges, customers that have been impacted should not be incurring fees as a result of the incident," he said.
"We've already reversed the fees and charges for June.
"The third thing we're looking at is credit bureau. We want to make sure that nobody's credit rating has been impacted.
Talks
"Lastly many of our customers have been inconvenienced during this period as well, so we're working on a range of options as to how we address that."
Mr Brown said the bank was in discussions with the regulators.
"Clearly our customers have been inconvenienced and we need to recognise that," he said.
"We do have a range of options that we are in discussions about. As soon as we finalise those we will be letting our customers and the market know."
Mr Brown said Ulster Bank branches would remain on extended opening hours this week.
Thousands of Ulster Bank customers across the island of Ireland were affected by a computer failure at the RBS's Edinburgh offices on 19 June.
For the first time in the bank's history 10 branches opened in Northern Ireland on the Twelfth bank holiday.
During the crisis, many customers were unable to get accurate statements about how much money they had in their accounts.
Antoinette McKeown from the Consumer Council welcomed the return to normal service.
"Anecdotally customers have been telling us that over the weekend they have been seeing their accounts come, 70%, 80%, 90% back in line," she said.
"We would advise customers to check every transaction over the last month as they are now able to check their accounts online."
The Consumer Council said it would continue to monitor that customers' accounts are back up to speed.
Compensation
"Our attention now is very clearly turning to the redress process and we want to look to Ulster Bank to provide details of what redress they are going to put in place for customers," she said.
"Ulster Bank recognises that its customers have had a much more protracted period than RBS and NatWest customers, so it's absolutely vital they provide a very, very clear and easily accessible redress system.
"The Consumer Council will want to see the detail of that."
Earlier this month, Mr Brown said he would not take an annual bonus.
He said he was committed to regaining customers' trust.
He said RBS would carry out a detailed investigation of the problems and would publish the findings.
Mr Brown also pledged that customers would not lose money as a result of the problems.
Ulster Bank has 1.9m customers in Northern Ireland, the Irish Republic and other parts of the United Kingdom.
It is believed that about 500,000 were affected by the technical failure.