Smithwick Tribunal told garda officer 'betrayed RUC men'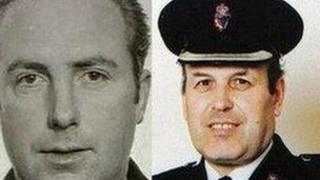 A former garda detective sergeant has been accused of betraying two RUC officers by failing to pass on intelligence in the months after their murders by the IRA.
Owen Corrigan is a key witness at the Smithwick tribunal which is investigating allegations of Garda collusion in the murders of Harry Breen and Bob Buchanan.
They were killed in an IRA ambush as they returned to Northern Ireland after a meeting at Dundalk garda station in March 1989.
Mr Corrigan denies all allegations of collusion against him.
The retired officer admitted that after their deaths a "reliable source" told him of a particular day when the men had been followed by IRA members, missing them only by five minutes and that the "leader of PIRA in South Armagh" walked behind them into Dundalk garda station.
The intelligence was described as "very specific" and outlined how the RUC officers had been followed only four or five weeks before the IRA ambush on 22 March.
'Potential lead'
Under cross-examination by Mark Robinson, for the PSNI, Mr Corrigan admitted that he did not pass this intelligence on or share it with anyone else.
"Why have you waited until 2012 to finally bring this information to light?" asked Mr Robinson.
"I can't say, there was no particular reason why I did," said Mr Corrigan.
When asked if such intelligence could have been a potential lead in the murder investigation of the RUC officers, the retired officer said "perhaps it was".
Under the terms of the Smithwick Tribunal, collusion is also considered in terms of an omission or failure to act.
The legal representative of the PSNI later read out part of the oath each member of An Garda Síochána declares when they are appointed which includes carrying out duties 'with fairness, integrity, regard for human rights, diligence and impartiality, upholding the Constitution and the laws and according equal respect to all people'.
"You opted out and betrayed the oath" said Mr Robinson.
"You betrayed your colleagues and you betrayed Harry Breen and Bob Buchanan for failing to pass on this information."
"I did not and I take grave exception to that," said Mr Corrigan.
Later on Wednesday during tense exchanges, Mr Robinson pressed Mr Corrigan on whether any of his superiors had asked him about rumours that he was a "compromised person".
'Propaganda'
Mr Corrigan replied: "Of course they did not, if you were to address every rumour you would be chasing your tail.
"Rumours are part and parcel of every police force in the world."
In April 2000, MP Jeffrey Donaldson used parliamentary privilege in the House of Commons to name Mr Corrigan as a "rogue garda".
Mr Robinson asked if any of Mr Corrigan's superiors had approached him about this.
"Why would they? They knew it was all lies," said Mr Corrigan.
He later said: "Experienced policemen know that propaganda and rumours are part of any subversive campaign, not one member of commissioner rank mentioned any of these rumours to me, nor did the RUC."
Mr Robinson put it to him: "Surely a rumour that a detective is assisting PIRA should go into the picture.
'Farce'
Mr Corrigan replied: "That's not a matter for me to decide - if they had any suspicions about my integrity in Dundalk, I would not have lasted an hour."
The Tribunal previously heard a claim from Mr Corrigan that he was largely responsible for bringing the IRA bombing campaign in Belfast to an end following his work in discovering a large IRA bomb-making factory south of Drogheda where 3.5 tonnes of explosives were found.
However, on Wednesday, Mr Robinson described the operation as a "farce".
"Four people in the bomb-making factory were under surveillance for two days, there were gardaí on the ground and they still managed to escape - it was a farce," he said.
"The experience of a trained bomb-making cell is indispensable, fertiliser can come and go."
The tribunal continues on Friday.