Lily Kerr claims she acted in the public interest in documents row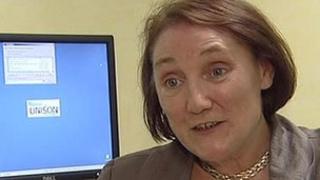 Sacked health official Lily Kerr has claimed that she acted in the public interest when she passed on documents to a journalist and a trade union.
Health minister Edwin Poots dismissed her from both the Health and Social Board and from her role as chair of the Northern Ireland Social Care Council.
Mr Poots said she emailed confidential documents to "third parties".
Mrs Kerr claimed that much of the information she passed on had already appeared in the public domain.
The former union representative also alleged the decision to dismiss her had been "coloured by the fact that I am a trade unionist".
'Integrity'
She is now intending to take legal action on the grounds of breach of contract, unfair dismissal and political discrimination.
Mrs Kerr told BBC Radio Ulster that she passed documents to journalists and a trade union, which included a set of Health and Social Care Board papers which were due to come before the board and health trust delivery plans, which she agreed were marked private and confidential.
"I was having a discussion with a journalist about why journalists in the public do not turn up at board meetings and she made the point they didn't know what was coming up so I sent her the papers," she told the Evening Extra programme.
"I was not whistleblowing. I was passing on information to encourage attendance at a board meeting that had already been in the public domain.
"I did nothing actually underhand, I acted with integrity and the minister actually gave me the choice of resigning and I was not prepared to resign."
Mrs Kerr said she was prepared to be sacked by Mr Poots in order that she could "go before the public and explain my action".
She also claimed that she had passed on the documents using an official email account which she knew her employers could access.
'Duty'
"If I had wanted to do it to be mischievous or for any underhand reasons I would have sent it from my own email," Mrs Kerr said.
However, Mr Poots said Mrs Kerr had been "identified as being a source of leaks" following an internal investigation which had been carried out at the request of the chief executive of the Health and Social Care Board.
He claimed that the documents she passed on were "clearly marked private and confidential" and he claimed that the meaning of that was "not hard to understand for most people in the public domain".
"She knows full well that she engaged in leaking - in deliberate leaking - and in that sense she moved against the code of conduct that she signed up to and agreed to", Mr Poots told Evening Extra.
The minister added that Mrs Kerr had "moved against her board colleagues, in that everyone else got articles which were marked private and confidential and respected that confidentiality".
"Mrs Kerr chose not to accept that confidentiality that she was duty bound and obliged to observe," he said.