Man escapes injury in arson attack in Dundonald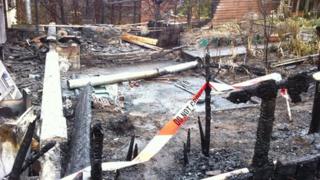 A 63-year-old man has escaped injury in an arson attack which has extensively damaged part of his house in Dundonald in the outskirts of Belfast.
The fire was discovered at the oil tank at the back of the property in Claggan Gardens at 14:45 BST on Saturday.
The tank was destroyed and the rear of the house and roof were badly damaged.
Brian McArthur owns the home and has been living there for 25 years. He said he was frightened for his life.
"The flames were everywhere. I looked in the kitchen and the windows were breaking, I went to the bathroom and the small window was breaking," he said.
The police are investigating if those responsible for causing this damage had a reason or if it was a random act.
Mr McArthur said he did not know why his home had been targeted.
"I don't bother anybody - all the neighbours will tell you that."