Criminal Justice Inspection report calls for intervention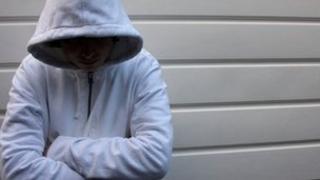 Authorities must get involved at an early stage to help young people at risk of getting involved in crime, a report has found.
The report was compiled by Criminal Justice Inspection Northern Ireland.
It called for executive ministers and those responsible for health and social care, education and criminal justice to intervene early for at-risk children.
Without this, NI will not be able to effectively tackle the problems emerging for those at risk, it said.
CJI acting chief inspector Brendan McGuigan said: "The benefits of early interventions have been well-documented in terms of social, emotional, educational and financial outcomes.
"However, inspectors encountered a number of issues, including a limited overall strategy for justice agencies, a lack of co-ordination between executive departments, a cluttered landscape of provision leading to potential duplications and a lack of evaluation of outcomes."
Mr McGuigan added that inspectors were not able to get a complete picture of the available number, types and funding of early intervention programmes.
He said there was a myriad of providers, targeted participants, funding streams and delivery and evaluation methodologies used in projects.
"The lack of coordination meant there was a risk of duplication of funding for projects and the lack of evaluation made it difficult to assess effectiveness and value for money," he said.
"All too often interventions attempt to deal with social problems that are already well-entrenched.
"This is not only ineffective in helping those young people with issues that contribute to criminal behaviour, it is also more expensive."