London mayor Boris Johnson committed to Wrightbus bus order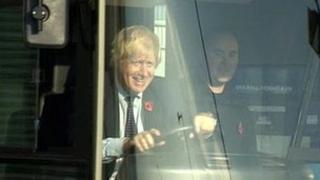 The mayor of London has said he hopes a Ballymena bus company can provide buses for the city over the next four years.
In a letter to DUP MP Ian Paisley, Boris Johnson said he remains committed to "the roll-out of 600 production vehicles between now and 2016".
Mr Johnson said the deal marked "good news for manufacturing jobs in NI and for travellers in London".
There are currently eight prototype buses being used across the streets of London, built by firm Wrightbus.
If the trials go well, staff at the County Antrim company hope a substantial order will be placed.
Discussions are ongoing between Wrightbus and Transport for London, the organisation that has responsibility for public transport in London.
Wrightbus was originally awarded the contract in January 2010 to design a new bus for London.
It was the first time in 50 years that a new bus has been designed for London commuters.
A team of engineers at the factory's plant at Galgorm outside Ballymena came up with a design for the double decker which has three entrances and a double staircase.
The design is similar to the classic Routemaster bus which was withdrawn in 2005.
Mr Johnson, who has long campaigned for a new bus for London, visited Wrightbus last November and described the design as a piece of "world class technology".
Mr Johnson, now in his second stint as mayor of London, made his comments in a letter to the North Antrim MP earlier this month.
He said: "I remain committed to the rollouts of 600 production vehicles between now and 2016."
Mr Paisley said he was pleased by Mr Johnson's endorsement.
He said he was "delighted the mayor of London had responded in a positive way".
You can follow Stephen Walker on Twitter @StepWalkTV