Family flee after several sectarian attacks on their Belfast home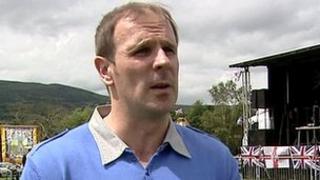 Police are treating an attack on a young family's house in north Belfast as sectarian.
The front door of the property in Westland Drive was kicked in and paint sprayed on it on Monday night.
The PSNI said the house has been targeted several times in the last few months.
Police are liaising with Belfast City Council and community representatives in an attempt to stop the attacks.
Winston Irvine, a member of the North Belfast Police and Community Safety Partnership, was contacted by the family on Tuesday morning.
"A man came down to our office, very distraught, and asked for some support and help in relation to the serious circumstances himself and his young family found themselves in," he said.
Mr Irvine said it was the latest attack in a "spree and spate" of attacks on the home of the couple in their mid-20s and their five-month-old baby girl.
'Unprovoked'
He said there was "absolutely no underlying" issue as to why the family were targeted.
"This is nothing short of a blatant, unprovoked, premeditated spate of attacks on this young Protestant family's home," he said.
He said it was the latest attack on Protestant homes within the area.
"I will be pressing the police to increase patrols in that area and to ensure that there are extra resources made available to deter any further attacks," he said.
"However the police can't do this on their own, there is also a serious responsibility on both political and community leaders from surrounding nationalist districts to step-up to the plate and face down those involved in sectarian violence.
"It's time people came together to bring an end to these attacks, before this situation escalates any further."
Mr Irvine said the attacks began two weeks after the family moved into the house and have been intermittent over a four-month period.
"These attacks have been logged with the police, who have released a statement confirming that there has been a series of sectarian attacks, not just on this one individual home, but their neighbours, as well, have also been attacked quite recently - there was flammable liquid poured through this young family's home and poured through their neighbour's home.
"This is not an isolated incident."
He said the family were in the process of moving into emergency accommodation.
"They will be leaving their family home and seeking permanent residency elsewhere," he said.
Intimidated
"They're not prepared to bring up a young baby in that type of environment.
"It's a sad indictment on our society in the 21st century that we still have people being forced out of their homes because of their religion.
"It's an absolute disgrace."
Mr Irvine said the family had been affected on a number of different levels.
"The young man hasn't had proper sleep for the past three nights because of his worry and concern for his young child and partner," he said.
"He has also lost his job as a result of this as he's been unable to go to work as he has been unable to settle while there for fear that his family and his home may be attacked again.
"I have no doubt that this young lad has been seriously damaged because of the treatment he's had to face over the course of the last number of months."
SDLP councillor Pat Convery condemned the attack.
"It is the latest in a line of attacks on the house, including the pouring of petrol through the letter box and the daubing of graffiti," he said.
"This was a cowardly assault on a family with a young baby, causing terror.
"Incidents like this serve precisely no purpose in the community and I hope that the perpetrators can be located swiftly and brought to justice."