How Smithwick Tribunal into IRA collusion claims unfolded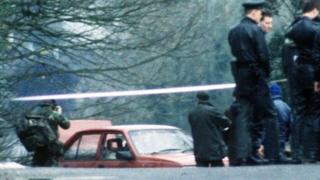 The murders of two Royal Ulster Constabulary (RUC) officers in 1989 after they had left a meeting with Irish police in Dundalk, County Louth, cast a long shadow.
Chief Supt Harry Breen and Supt Bob Buchanan were shot dead as they crossed the Irish border returning from that meeting, on 20 March.
Speculation that a mole in the Republic of Ireland police service, An Garda Síochána, had been involved was quickly denied.
At the time, the then Garda Commissioner Eugene Crowley said: "I absolutely and positively reject any suggestion of that kind."
And his counterpart north of the border, the then RUC Chief Constable Sir John Hermon, added: "There was no mole and we would ask that this be discounted very firmly and very quickly."
But for decades the speculation persisted.
Collusion between paramilitaries and state agencies has been a recurring charge in Northern Ireland, but when the Smithwick Tribunal was finally established in 2005 it brought the possibility of such a charge to the Irish state's door for the first time.
Over 200 witnesses testified, including former IRA members and spies in the British security services, generating, at times, fascinating and frustrating testimony to the tribunal.
Denials
Many allegations were made, some centring on former Garda sergeant Owen Corrigan.
He denied collaborating with the IRA, despite one RUC intelligence document that said he passed on information.
Suspicions had also fallen on two other Dundalk gardai; Leo Colton and Finbarr Hickey.
They too deny leaking information to the IRA.
Much of what was said in evidence took the form of claim and counter-claim, giving rise to contradiction and confusion.
In a statement to the inquiry, the IRA said the killings were the result of a lengthy surveillance operation and that they had no help from any Garda officer.
While one British intelligence document suggested there were several Dundalk gardai up to and over the rank of sergeant leaking information to the IRA, another British intelligence document said none of the three mentioned in the tribunal helped the IRA.
The inquiry also heard evidence of the Police Service of Northern Ireland (PSNI), the service that replaced the RUC, not passing on recent intelligence on the murders to gardai.
Wide definition
There are allegations too that have caused unease north of the border: claims that Deputy First Minister Martin McGuinness was the IRA commanding officer who sanctioned these murders and others; other allegations accuse west Belfast man Freddie Scappaticci of being a high-level Army agent within the IRA.
Both these claims have been vigorously denied.
There was an allegation too, contained in a letter from the Northern Ireland secretary's office in 2002, that it may have been a senior Catholic RUC officer who tipped off the IRA leading to the men's murders.
However, it was not for this inquiry to delve into those matters, although the tribunal operated to a wide definition of collusion.
But in arriving at a decision, Peter Smithwick had to weigh up a number of factors:
Whether a Garda investigation in 2000 into collusion claims, which had resurfaced at that time in the media, properly examined the issue
Whether Garda chiefs knew of apparent RUC concerns about Dundalk garda Owen Corrigan
What weight should be attached to intelligence emanating from the RUC/PSNI.
'Rollercoaster of emotion'
The chairman's task was made more difficult by his inability to compel those from outside the Republic of Ireland to give evidence, and by the difficulty in accessing documents held by the PSNI and British security services - something the families of Harry Breen and Bob Buchanan have found deeply frustrating.
The families have also expressed their dismay and concern at the PSNI's withholding of "vital intelligence material" for up to seven years.
Mr Buchanan's son William said it had been "painful" at times listening to the tribunal recount the events leading to his father's murder.
"There has been a rollercoaster of emotion, no doubt, for all of us," he said.
"There's pride in some of the testimonies of individuals about my father, his character and professionalism, but others have not been as kind and that hurts."